By Mark Zip | April 3, 2013

The "My Type of Music" series over at FontFeed usually focuses on good/interesting record covers. This time the serious critical eye is turned on gems of another type: My Type of Music – FontFeed – April 2013
Topics: Covers, Critics, Releases, WTF? | No Comments »
By Mark Zip | March 5, 2013
You walk into a record store and buy the new UK import CD of 2NE1′s new record 2nd, (because you are in the mood for some k-Pop and glitter).
You listen to it a few times and move on.
You have a yard sale and put out a few CDs for sale.
A kid buys it from you.
You've got a bit of money you can use to buy more CDs.
The kid gets started on a whole new trajectory of glitter-pop and hipness
Sounds like a pretty normal day-to-day transaction, no? Well, yes, but it relies upon a legal notion called "the doctrine of first sale".
And that is now under consideration at the Supreme Court. Which might well tell us that we are not allowed to re-sell something which is made outside the US but can be covered by copyright inside the US (like a CD).
The folks at Demmand Progress have made a very lucid (and short) video explaining it:

Topics: Music Industry | No Comments »
By Mark Zip | February 24, 2013
The Harlem Shake phenomenon has us feeling somewhat vindicated.
But we should not feel too clever. I was chatting with a a couple of the neighbourhood kids last Monday and quizzed them about the number one track in the country. These two are usually singing Carly Rae Jepsen and every other Top 40 radio hit. They had no idea what I was talking about. This was even after I reminded them that they had laughed at me when I played the track for them during the summer. I did my stupid superior dance internally and moved on. I did, however, have one nice moment when a customer at the record show asked me if the track on the videos was the same one I played for (hyped at) him in the Fall.
The nice thing about predictions is that if you make enough of them, some will eventually come true, even if just by dumb luck.
Topics: Charts | No Comments »
By Mark Zip | January 30, 2013
Trent Woble at TheVerge has a fascinating story from the NAMM convention on Don Lewis, a pioneer of electronic instruments and a consultant to Roland. The feature then goes on to highlight a few of the out of the way innovations on display at the convention. Look at all those knobs! See all those dials!
http://www.theverge.com/2013/1/30/3932574/how-the-808-found-its-cymbal-musical-tales-namm-geeky-underbelly
Topics: Music Industry, Music Technology, video | No Comments »
By JimM | January 27, 2013
---
This is the space where I usually vent about the year just passed. Guns are bad, liberals are good, blah, blah, blah.
________________________________________
• This Will End In Tears: The Miserabilist Guide To Music | Adam Brent Houghtaling
Yup, a book tops my list for the first time ever. My wife always complains that I listen to too much of what she calls "sad bastard music" and that was before I was armed with "the definitive guide to the sad songs that make us so happy." I spent most of the year with this collection by my side as I wallowed in favorites old (American Music Club, Leonard C., Townes etc.) and new to me discoveries (Mickey Newbury, The Field Mice, Black Tape For A Blue Girl). An essential book for any pop mope worth their Morrissey.
________________________________________
• Japandroids | Celebration Rock
This has basically been my favorite kind of music in some form or another since I was about 15 years old. Ragged glory guitars and shout to the heavens choruses that actually make me jump around like the 15 year-old idiot still trapped in my middle-aged body and brain.
________________________________________
• Craig Finn | Clear Heart, Full Eyes
I forgot about this and just got it a few weeks ago. I like most of this subdued record and Finn's writing is as always inspired. On some of the songs, however, it feels like he's trying too hard to not be The Hold Steady.
________________________________________
• Dinosaur Jr. | I Bet On Sky
Another echo of teenage angst and exploding guitars.
________________________________________
• Nightmares For A Week @ Rondout Music Lounge
A blistering set in a cool new venue. The unquestioned highlight (at least for um, me) was when I took over the lead vocals for "I Will Dare".
________________________________________
• New Multitudes | New Multitudes
I always enjoy listening to Jay Farrar and Anders Parker sing.
________________________________________
• Rhett Miller | The Dreamer
Local hero delivers another solid set of songs.
________________________________________
• Carly Rae Jepsen | "Call Me Maybe"
No, I'm not being ironic. This ear worm ate my brain all year. Pure pop bliss.
________________________________________
• Cheap Girls | Giant Orange
I guess I dug guitars this year. And jumping around like an idiot.
________________________________________
• Jimmy Cliff | Rebirth
Worth it for the "Guns Of Brixton" cover alone.

---
Topics: PoOPlist 12, PoOPlists, PoOPlists2010 | No Comments »
By MarkR | January 27, 2013
---
With a quarter of a century behind us, we POmpous and OPinionated types have gone back to the well to haul up the usual buckets of blather and bile. While the world around us rages, we 26 would-be music critics prattle on, sharing our self-important musical observations with one another and exercising our Constitutional right to bear snark . After America got its ass kicked first by Sandy the Storm and then Sandy Hook the Elementary School, sometimes it's the trivial stuff that keeps us keeping on. Sort of like a National Trifle Association.
If you are among the already initiated, feel free to skip this paragraph. As usual, I've attempted to tabulate the entries and, as is customary, I've employed the time-honored What-The-Hell's-He-Talking-About-Anyway System. One more time, I've given 2 points to each pompoid's Top 10 choices and 1 point to each title beyond a Top 10 or in the variously designated "honorable mention" categories (up to 25 titles in all). Half-points are awarded in rare cases where someone lists too many titles or fails to rank order more than 10 choices. Even Karl Rove has fully accepted this methodology.


And now, the POOP answer key.


Mark R
El POOPidente


CONTRIBUTORS
Richard Allen – Sayville, NY ||| Ken Beck – Cranford, NJ ||| Kent B – Newburgh, NY ||| Tim Broun – Woodstock, NY ||| Duncan Clark – Milton, NY ||| Don Cohen – New York, NY ||| Scott Dell'Amore – Rhinebeck, NY ||| Kevin Falahee – Astoria, NY ||| Eric Fine – New York, NY ||| Jim Finnigan – New Hamburg, NY ||| John Greak – Gardiner, NY ||| Mike Jurkovic – Wallkill, NY ||| Patrick Kennedy – Brooklyn, NY ||| Bernadette Lange – New Paltz, NY ||| John Lefsky – New Paltz, NY ||| Jim Meyers – Kingston, NY ||| Mike Miller – Cuba, NY ||| Matt Nerney – Kingston, NY ||| Irv Rosen – Tarpon Springs, FL ||| Mark Rosen – New Paltz, NY ||| Andrew Stewart – Rhinebeck, NY ||| John Stewart – Bloomington, NY ||| Bill Still – Kingston, NY ||| Tom Whalen – New Paltz, NY ||| Dan Wilmer – Brooklyn, NY ||| Mark Zip – Woodstock, NY

---
Topics: PoOP Analyisis, PoOPlist 12, PoOPlists, Pooplists2012 | No Comments »
By Mark Zip | January 27, 2013
The annual NAAM show is on, and that means all sorts of vendors showing all sorts of new ways to play the Electric Slide to grannies at weddings.
Engadget has details of an interesting hand-held mixer featuring touchscreens and buttons both. Hit the link below for more details and hands-on video.
PDJ Portable Disc Jockey is a complete DJ system that fits in your pocket, we go hands-on video.
Topics: Live Shows, Music Technology | No Comments »
By DonC | January 27, 2013
---
Tried and True
Neil Young and Crazy Horse
"
Psychedelic Pill
"
Ian Anderson
"
Thick as a Brick
" 2
Mark Knopfler
"
Privateering
" (import)
Rodriguez
"
Searching for Sugarman
" Soundtrack
Old Crow Medicine Show
"
Carry Me Back
"
Leonard Cohen
"
Old Ideas
"
Bruce Spingsteen
"
Wrecking Ball
"
Bonnie Raitt
"
Slipstream
"
Norah Jones
"
Little Broken Hearts
"
dBs
"
Falling Off the Sky
"
Glen Hansard
"
Rhythm and Repose
"
Joseph Arthur
"
Redemption City
"
Beach Boys
"
That's Why God Made the Radio
"
Shiny and New
Tame Impala "Lonerism"
Lord Huron "Lonesome Dreams"
Joe Pug "The Great Despiser"
Alabama Shakes "Boys & Girls"
Gary Clark, Jr. "Black and Blu"
First Aid Kit "The Lion's Roar"
The Lumineers "The Lumineers"

Favorite Films
Silver Linings Playbook
The Sessions
Amour
Searching For Sugarman
The Flat
Moonrise Kingdom
Argo
Life Of Pi
Bernie
Lincoln

TO THOSE WHO BROUGHT US PLEASURE, A TIP O' THE BRIM:
2012 RIP
Bob Weston, Don Carter, Andy Carey, Tommy Ardolino, Jimmy Castor, Johnny Otis, Etta James, Joe Paterno, James Farentino, Nicol Williamson, Don Cornelius, Ben Gazzara, Whitney Houston, Dory Previn, Gary Carter, Mike Davis, Davy Jones, Ronnie Montrose, Peter Bergman, Murray Lender, Earl Scruggs, Eric Lowen, Jim Marshall, Gil Noble, Mike Wallace, Dick Clark, Levon Helm, Jonathan Frid, Chris Ethridge, Pete Fornatale, Bill "Moose" Skowron, Adam Yauch, Donna Summer, Doug Dillard, Robin Gibb, Doc Watson, Richard Dawson, Bob Welch, Ray Bradbury, Herb Reed, Ernest Borgnine, Nora Ephron, Andy Griffith, Celeste Holm, Jon Lord, Kitty Wells, Sherman Hemsley, Chad Everett, My Weekly Reader, Alexander Cockburn, Tony Scott, Scott MacKenzie, Phyllis Diller, Hal David, Michael Clarke Duncan, Joe South, Andy Williams, Terry Callier, George McGovern, David S. Ware, Larry Hagman, Dave Brubeck, Russell Means, Ed Cassidy, Jack Klugman, Charles Durning, Fontella Bass, Ray Collins and Mike Auldridge.


Don Cohen
---
Topics: PoOPlist 12, PoOPlists, Pooplists2012 | No Comments »
By BernadetteL | January 26, 2013
---
Hip-Hop killed it this year! By the time I'm done compiling this list, most of these albums will be considered completely uncool to listen to. Shit, the same can be said for Indie Rock/ Pop records as well. There wasn't one album that chewed me up, spit me out and put me back together , making me a better person in the process… The way a life changing album can. That being said, there were butt loads of feel good, feel angry and get faded audible pornography!! #DRANK!!
Top 20 Albums
1. Grimes – Oblivion
2. Kendrick Lamar – Good Kid m.a.a.d. City
3. Frank Ocean – channel Orange
4. Japandroids – Celebration Rock
5. Burial – Kindred
6. EL-P – Cure For Cancer
7. Perfume Genius – Put Your Back N 2 It
8. Tame Impala – Lonerism
9. Frankie Rose – Interstellar
10. Bat For Lashes – The Haunted Man
11. Future – Pluto
12. Chromatics – Kill For Love
13. Godspeed You! Black Emperor – Allelujah! Don't Bend! Ascend!
14. Angel Haze – New York EP
15. Fiona Apple – The Idler Wheel…
16. Death Grips – Money Store
17. Julia Holter – Ekstasis
18. Jessie Ware – Devotion
19. Purity Ring – Shrines
20. Grizzly Bear – Shields
MY TOP TRACKS 2012
1. The House That Heaven Built – Japandroids
2. Song For Zula – Phospherescent
3. Get Free – Major Lazer
4. Do You… – Miguel
5. Oblivion – Grimes
6. Swimming Pools (drank) – Kendrick Lamar
7. Emmylou – First Aid Kit
8. Cold Nights – How to Dress Well
9. Wildest Moments – Jessie Ware
10. Pyramids - Frank Ocean
11. Grown Up – Danny Brown
12. No Future/ No Past – Cloud Nothings
13. Big Beast – Killer Mike
14. Hands On The Wheel – Schoolboy Q
15. Oh Hail No – EL-P
16. Your drums, Your Love – AlunaGeorge
17. Hey Jane – Spiritualized
18. Turn On The Lights – Future
19. King Of Hearts(Richard X Remix edit) – Cassie
20. Fineshrine – Purity Ring
21. Husbands -Savages
22. Stay Schemin' – Rick Ross
23. Bands A Make Her Dance – Juicy J
24. Werkin' Girls – Angel Haze
25. Angels – The xx
26. Five Seconds – Twin Shadow
27. Kill For Love – Chromatics
28. November Skies – Tomas Barford, Nina Kinert
29. Phone Sex – Blood Diamonds
30. The Mother We Share – CHVRCHES
31. I Belong In Your Arms – Chairlift
32. Terrorist Threats – Ab-Soul
33. New God Flow.1 – Kanye West
34. Feels Like We Only Go Backwards – Tame Impala
35. Pair Of Wings – Frankie Rose
36. Disparite Youth – Santigold
37. Hit The Ground (Superman) – The Big Pink
38. Hood - Perfume Genius
39. After Light – Rustie
40. Losing You – Solange
41. Night and Day – Hot Chip
42. I love It – Icona Pop
43. Young Man In America – Anais Mitchel
44. Lilies – Bat For Lashes
45. We Are Never Getting Back Together – Taylor Swift
---
Topics: PoOPlist 12, PoOPlists, PoOPlists2010 | No Comments »
By ScottD | January 26, 2013
---
Click
here for full .pdf
Click
here for a huge picture of page 1
Click
here for a huge picture of page 2
Topics: PoOPlist 12, PoOPlists, PoOPlists2010 | No Comments »
By BillS | January 26, 2013
---
1.SWANS : The Seer
2. ROCKET JUICE & THE MOON
3. SUN ARAW meets THE CONGOS : Icon Give Thank
4. ADRIAN SHERWOOD : Survival & Resistance
5. LITTLE AXE : If You Want Loyalty Buy A Dog
6. VAN MORRISON : Born To Sing No Plan B
7. PRINCE FATTY presents HOLLY COOK in Dub
8. MARK LANEGAN BAND : Blues Funeral
9. BLACK KEYS : El Camino
10. BOB DYLAN : Tempest

also-
Neneh Cherry & The Thing : The Cherry Thing
Dennis Bovell : Mek It Run
Moon Duo : Circles
Jack White : Blunderbuss
Donald Fagen : Sunken Condos
Can : The Lost Tapes
PiL : This Is PiL
Flying Lotus : Until The Quiet Comes
Neil Young & Crazy Horse : Psychedelic Pill
Dr. John : Locked Down
billstill
---
Topics: PoOPlist 12, PoOPlists, Pooplists2012 | No Comments »
By DuncanC | January 26, 2013
---

It's official. It was bound to happen eventually. After I started drawing up my list of best music for what was admittedly a less than an exemplary year, I started looking at who I had picked. It was only then that I realized that my picks were more appropriate for AARP than POOP. There were a lot of old guys on this list, some of whom hadn't made one of my lists in decades. I mean even the Doughboys who have been recording for only 5 years formed in 1963! There was a lot of good (not great) music to listen to last year. There wasn't any one album that stood out from the others this year. In any event, what I listened to last year:

| | |
| --- | --- |
| Buy New or used via Amazon | 1. NEIL YOUNG & CRAZY HORSE – Psychedelic Pill: Americana had me concerned but this made me a believer again. |
| Buy New or Used via Amazon | 2. JACK WHITE – Blunderbuss: A good representation of what he's done in last several years. |
| Buy New or used via Amazon | 3. DR. JOHN – Locked Down: With a whole lot of assistance from Dan Auerbach. : With a whole lot of assistance from Dan Auerbach. |
| Buy New or used via Amazon | 4. BOB MOULD – Silver Age: His best since his days in Sugar. |
| Buy New or used via Amazon | 5. AIMEE MANN – Charmer |
| Buy New or used via Amazon | 6. OF MONSTERS AND MEN – My Head Is An Animal: I had gotten hooked on the group after hearing "Little Talks" on the radio in the fall of 2011. This was the one album that I was really looking forward to last year. And they aren't even my favorite band from Iceland. |
| Buy New or Used via Amazon | 7. BRUCE SPRINGSTEEN - Wrecking Ball: It's difficult to think of anyone more eloquent about the times we're living in. |
| Buy New or Used via Amazon | 8. FATHER JOHN MISTY – Fear Fun: His voice is ethereal, the music very straight forward and lyrics just strange. And that's not even addressing the liner notes. |
| Buy New or Used via Amazon | 9. THE dB'S – Falling Off the Sky: A 25 year layoff had no effect. A great reunion. |
| Buy New or used via Amazon | 10. LEONARD COHEN – Old Ideas: The album most directly confronting aging and death comes from the oldest person on this list. An album of wisdom, grace and wit. |
11. SIGUR ROS – Valtari: A retreat from the pop approach of its last studio album to its more ambient roots. According to my wife, the only disc that mattered last year.
12. BOB DYLAN – Tempest.
13. ALABAMA SHAKES – Boys & Girls: Great voice and retro soul and rock band.
14. THE ALBION BAND – The Vice of the People: Ashley Hutchings has passed the torch and the family business to his son who has formed a new young band. They bring some badly needed energy, electricity and politics to the music. Impressive start.
15. AC NEWMAN – Shut Down the Streets: Dealing with weightier subjects but with Neko Case all over the record, it very much sounds like the next New Pornos disc.
16. JIMMY CLIFF – Rebirth: Terrific pairing with Tim Armstrong from Rancid. The first reggae album to make my list is a number of years.
17. DJANGO DJANGO – An inspired mix of electronic, artsy pop.
18. BELLOWHEAD – Broadside: More of the British music hall approach to trad songs.
19. OLD CROW MEDICINE SHOW – Carry Me Back: One of the youngest bands on this list which of course has the oldest sound of anyone (except for possibly Dylan).
20. GRAHAM PARKER & THE RUMOUR – Three Chords Good: Another impressive reunion that should have been greeted with more fanfare than it did.
21. RICHARD THOMPSON – Cabaret of Souls: RT has always had a knack for writing good songs about quirky people. Here he lines them up (the art critic, the glutton, etc.) in purgatory and then has Harry Shear casting judgment on them.
22. THE SHINS – Port of Morrow
23. THE DOUGHBOYS – Shakin' Our Souls: My favorite rock band celebrating its 50 year anniversary. Kudos for getting Mark Lindsay back into the studio.
24. THE BAND FROM ROCKALL – Courtesy of the 2 brothers who founded Runrig (and thus sounding very much like that band).
25. THE BEACH BOYS – That's Why God Made the Radio: The title song was fun and if this turns out to be the true final Beach Boys album because of Mike Love's ego, then the trilogy of songs that ends the album is a perfect cap to a great band.

REISSUES
1. ALEX CHILTON – Free Again: The 1970 Sessions: The missing link between the Box Tops and Big Star.
2. VARIOUS ARTISTS – Complete Pop Instrumentals Hits of the Sixties: An exhaustive project to collect every instrumental song that made the top 100 charts. The first two volumes covering 1960 and 1961 are out. They are a microcosm of what am radio was like in the early 60's.
3. THE WHO – Live at Hull: I was lucky enough to see them around this time and are still the most powerful band I ever seen.

CONCERTS
1. SIGUR ROS – Celebrate Brooklyn, Prospect Park, Brooklyn 7/31/12.
2. BRUCE SPRINGSTEEN & THE E ST. BAND – Metlife Stadium, Meadowlands 9/22/12.
3. GRAHAM PARKER & THE RUMOR – Bardavon, Poughkeepsie 11/25/12
4. FAB FAUX – UPAC, Kingston NY 2/11/12
5. LUCKY PETERSON – The Falcon, Marlboro 2/19/12

Duncan Clark
---
Topics: PoOPlist 12, PoOPlists, PoOPlists2010 | No Comments »
By MattN | January 25, 2013
---
Less new music, more old music … same old thing. Actually, these 15 albums are the only new titles that I held on to this year (so far) … guess I'm just getting old and finicky. Go figure.

1. Grizzly Bear ~ Shields : sublime
2. Sigur Ros ~ Valtari : more ambient than any of their recent releases, more fragile, and more beautiful
3. Tim Eriksen ~ Banjo, Fiddle, & Voice : folk music, exactly as the title says
4. James Yorkston ~ I was a Cat from a Book : much the same as always
5. Brian Eno ~ Lux : light and space
6. Gravenhurst ~ the Ghost in Daylight : as spectral and tormented as a ghost
7. Zeus ~ Busting Visions : want to relive your '70's power pop past?
8. Dr. Dog ~ Be the Void : want to relive your '70's classic rock past?
9. Great Lake Swimmers ~ New Wild Everywhere : a little more polished, a little more NPR, but still lovely and laudable
10. Kami Thompson ~ Love Lies : moody & melancholy, but with a bit of a bite (and it doesn't hurt to have the family along on several tracks)
11. Sun Araw meets the Congos ~ Icon Give Thanks : an intriguing meeting of new and old style sounds. The question begs to be asked though – what would have happened if Scratch Perry had been invited to the party?
12. Gnome & Spybey ~ Beyond Willie's Place : moving toward the heart of space and away from Dead Voices On Air
13. Clinic ~ Free Reign : as mellow as they're ever likely to get
14. Field Music ~ Plumb : a nice, new, shiny knot
15. Twilight Sad ~ No One Can Ever Know : imagine icy '80's synth pop

Archival
Didn't get too much this year in terms of new archival material. Still grabbing an occasional Grateful Dead release; I'm actually waiting on the most recent Dave's Pick to come out (Volume 5: 11/17/73), which looks to be a killer show. Otherwise I'm hoping to pick up Lost Tapes by Can sometime soon. Yes?
Solicitations
Seeking recommendations for music similar to that which I have been immersing myself in over the course of the past year :
English Folk Rock (having read the highly informative but somewhat pedantic Electric Eden by Rob Young) : Fairport (natch), Bert Jansch, June Tabor, the Trees, the Unthanks, Heron, Anne Briggs, Eliza Carthy, etc.
Krautrock (having previously ignored this entire field of music) :
Amon Duul II, Can, Cluster, Harmonia
Ambient/Industrial (having an affinity for the prettier end of the spectrum) : Brian Eno, Harold Budd, Zoviet France
Classical (having same aforementioned connection with prettiness) : Gavin Bryars, Arvo Part, Alan Hovhaness, Vaughn Williams
R.I.P.
Levon Helm, Earl Scruggs, Dave Brubeck, Adam Yauch, Etta James, Doc Watson, Ravi Shankar
Matt Nerney
---
Topics: PoOPlist 12, PoOPlists, Pooplists2012 | No Comments »
By JohnL | January 25, 2013
---

I'm listening to POOP possibles as I type this. I don't suppose I can have an extra month so I can investigate the intriguing SHINDIG Top Ten, not one title I have heard. Guess not. OK.

Buy New or Used via Amazon

1. Ty Segall Band – SLAUGHTERHOUSE Ty released 3 records this year, all worthwhile. This one sounds like he's been eating Hawkwind for breakfast, with a bit o' Blue Cheer. Fuzz, hooks, phlegm.


Buy New or Used via Amazon

2. Volcano The Bear – GOLDEN RHYTHM/INK MUSIC Just out of curiosity, I Googled VTB and This Heat. SHAZAM!!! Been listening to these guys for years, and this is their most accessible. Some Canterbury influence. (Canterbury means Prog Rock for people who are afraid to admit they like Prog Rock.)


Buy New or Used via Amazon

3. Getatchew Mekuria & The Ex & Friends – Y'AMBESSAW TEZETA Friends include Hans Bennink, Misha Mengelberg and Ken Vandermark. This is more Mekuria's show than their last collaboration. The Ex gently swing and sway, pulling back from the martial chaos they can cause, and it works.


Buy New or Used via Amazon

4. The Residents Present Coochie Break – SONIDOS DE LA NOCHE Basically the Residents without Randy singing. The vocals, by former member Carlos, are almost all in Spanish. The whole album has a melancholy air, devoid of the Residents more eccentric tendencies.


Buy New or Used via Amazon

5. The Electric Mess – FALLING OFF THE FACE OF THE EARTH Farfisa, hooks, snarling female vocalist. Doesn't let up. As much as I liked their debut, this one leaves it in the dust.


Buy New or Used via Amazon

6. Thee Oh Sees – PUTRIFIERS II Wow, only one record this year. Last year they put out three. Moving away from the garage and towards more melodic psych/pop.


Buy New or Used via Amazon

7. Wreckless Eric & Amy Rigby – A WORKING MUSEUM "Rebel Girl, Rebel Girl" should be a hit. Well it is with me, along with the rest of this melodic wonder. Proof that heartfelt doesn't have to mean mawkish.


Buy New or Used via Amazon

8. The Intelligence – EVERYBODY'S GOT IT EASY BUT ME You can be a clever smart – ass as long as you have the hooks to back it up. I'm also a sucker for a mellotron.


Buy New or Used via Amazon

9. Alexander Tucker – THIRD MOUTH It's hard to write this stuff without the inevitable comparisons. I'm thinkin' side 2 of "Before And After Science," but with a heavier psych/folk bent. What would I do without the words "garagey" or "psych"? I think I finally weened myself off of "angular" and "jagged."


Buy New or Used via Amazon

10. UV RACE – RACISM Some primo stupidity from Australia. "I'm a pig, I'm a pig, can't you dig?…oink oink oink oink," guitar solo.
11.Slug Guts – PLAYIN' IN TIME WITH THE DEADBEAT
12. Neneh Cherry and The Thing – THE CHERRY THING
13.POP. 1280 – THE HORROR
14. Wadada Leo Smith – TEN FREEDOM SUMMERS
15. The Brian Wilson Shock Treatment – OPERATION SUN PROBE
16. Timmy's Organism – RAW SEWAGE ROQ
17. Royal Headache – ROYAL HEADACHE
18.Andre Williams & The Sadies – NIGHT & DAY
19.Giant Giant Sand – TUCSON
20. The Chrome Cranks – AIN'T NO LIES IN BLOOD

Other stuff:
Ceremony – ZOO, Neil Young – PSYCH PILL/ AMERICANA, Redd Kross – RESEARCHING THE BLUES, Cheap Time – WALLPAPER MUSIC, Guided By Voices – THE BEARS FOR LUNCH, Kelan Philip Cohran & The Hypnotic Brass Ensemble, Ty Segall – TWINS/HAIR, U.S. Girls – GEM, K-Holes – DISMANIA, Titus Andronicus – LOCAL BUSINESS, Aimee Mann – CHARMER, Heavy Blanket – Heavy Blanket, Db's – FALLING OFF THE SKY, Apache Dropout – BUBBLEGUM GRAVEYARD, Swans - THE SEER, Sun Araw & The Congos – ICON GIVE THANK
Comps, reissues, dug up:
V/A - STRANGE PASSION:EXPLORATIONS IN IRISH POST PUNK,. V/A – TALLY HO:FLYING NUN'S GREATEST BITS, Rick Springfield - BEGINNINGS, Toy Love - LIVE AT THE GLUESPOT, Zs - THE COMPLETE SEXTET WORKS, V/A - LA ONDA VAMPI, The Normals - VACATION TO NOWHERE.
In one orifice and out:
Dylan, Springsteen, Mumford And Sons, Alabama Shakes, Cat Power, XX, Jack White, Sun Kil Moon,
Shows
The Feelies – Club Helsinki, Richard Thompson – Bearsville, Yo La Tengo/Feelies – Maxwell's, Zs – BSP, Wreckless Eric & Amy Rigby – BSP, Aimee Mann – Bearsville, Southern Culture On The Skids, Jon Langford & JC Brooks and the Uptown Sound – Madison Square Park; Gillian Welch – The Egg
Movies:
Don't make it out to the movies too often, so these may not all be 2012 flicks:
1.THE MASTER 2. WEEKEND 3. ATTENBERG 4. THE AVENGERS 5. THE GREY.
Other goodies – COMPLIANCE, THE CHRONICLE, BEAUTY IS EMBARRASSING, BERNIE, ROADIE, ALPS, CABIN IN THE WOODS, ARGO, THE FORGIVENESS OF BLOOD, THE RAID.
Almost, not quite, some good scenes and performances: MOONRISE KINGDOM, COSMOPOLIS, BEASTS OF THE SOUTHERN WILD, THE DEEP BLUE SEA,
Special mention – DARK KNIGHT RISES and PROMETHEUS. Dull, stupid and long. Nolan made one pretty good flick, MEMENTO, held together by a good central performance. DARK KNIGHT is the worst of a useless trilogy. PROMETHEUS looks like the beginning of a useless trilogy.
Looking at other lists, much was missed. A lot of music falls through the cracks because there is more great music put out independently. To find some of it, you have to contact the bands and labels directly. It's worth the trouble.
John Lefsky

---
Topics: PoOPlist 12, PoOPlists, PoOPlists2010 | No Comments »
By Mark Zip | January 25, 2013
A funny/sad/ridiculous tale of how record companies often don't know their asses from their elbows. Told with grace and humor.
Let's be clear, this is the recording industry* we are trying to protect with our constant attempts to pass internet-killing legislation.
*I say "recording industry" because I think that is a different animal than the "music industry". Unfortunately, too many people, including the uploader of this video, use the terms interchangeably.
(Thanks to my friend and ex-housemate Eric, who is a high-powered entertainment lawyer in LA, for sharing this)
Topics: Music Industry, video | No Comments »
By TomW | January 25, 2013
---
10 top
Buy New or Used via Amazon

1. Japandroids – Celebration Rock
<< Am I old enough to miss being young? How it felt, how it sounded? Who of us ever thought a record would ever, ever, ever again sound like this, feel like this!?


Buy New or Used via Amazon

2. Burial – Kindred EP
<< Burial's embrace of long-form, mixtapeish compositions, here and on Truant/Rough Sleeper, was as unexpected as it was revelatory. The texture of this music, both physical and emotional, is simply staggering. This guy's like the Beatles to me.


Download via Stereogum
3. Action Bronson and Party Supplies – Blue Chips
<< It's hard to pin down why Bronson's playful horny chef routine pulled me in deeper than did the cough-syrupy, more classically street MC class of 2012… on second thought, I guess that's not really all that hard to pin down at all.


Buy New or Used via Amazon

4. Craig Finn – Clear Heart Full Eyes
<< I am the perennial Finn fanboy, and 4 is my lucky number. The rest is sort of hard to explain.


Buy New or Used via Amazon

5. Cheap Girls – Giant Orange
<< It's funny how old-fashioned terms "college rock" and "alt rock" seem now. I guess it's also curious that, as I struggle for the appropriate modifiers to sum up the shamelessly simple pleasures of Giant Orange, "old-fashioned" seems strangely appropriate, and also somewhat poignant. Heck, they're reissuing their old records on Asian Man!!


Buy New or Used via Amazon

6. Holy Other – Held
<< The pulsing, wordless cry is both Holy Other's sonic signature and a flag marking its mournfully erotic sonic terrain. Take a look at the cover—that's exactly what this album sounds like.


Download via Amazon

7. Shigeto – Lineage EP
<< Producers doing more with less seems to be the order of the moment, now that the dubstep bubble has burst. Shigeto's Lineage EP uses jazz hands and piano loops to channel RZA channeling Monk on 36 Chambers—quietly mournful, quietly bright.


Buy New or Used via Amazon

8. How to Dress Well – Total Loss
<< Tom Krell refined the overdriven Lynchian soul of his debut into straight-up cosmic art-school Boys II Men. An inspiring, incredibly heartfelt record.


Buy New or Used via Amazon

9. Chairlift – Something
<< The album as a whole is terrific, but "I Belong In Your Arms" and "Take It Out On Me" really make this one for me—two absolutely gorgeous tunes.


Download via Amazon

10. Angel Olsen – Half Way Home
<< More uplifting than any album about death has any business being. A fine secular spiritual that is, I reckon, up many of my fellow Poopster's alleys—check it out!

15 more
Ash Borer – Cold of Ages
Baroness – Yellow & Green
Burial – Truant / Rough Sleeper EP
The Caretaker – Patience (After Sebald)
Chromatics – Kill for Love
Converge – All We Love We Leave Behind
Flying Lotus – Until the Quiet Stops
Daughn Gibson – All Hell
High On Fire – De Vermis Mysteriis
Mean Jeans – On Mars
The Men – Open Your Heart
Motion Sickness of Time Travel – Motion Sickness of Time Travel
Pallbearer – Sorrow and Extinction
Andy Stott – Luxury Problems
Susumu Yokota – Dreamer


Praise the day, people.
TW, January 2013

---
Topics: PoOPlist 12, PoOPlists, Pooplists2012 | No Comments »
By Andrew | January 25, 2013
---
Buy New or Used via Amazon

1. The Walkmen – Heaven
(The evolution continues: gorgeous, dramatic, intimate-yet-epic songs about love and loss. There is a certain kind of magic here, and it's tough to resist.)


Buy New or Used via Amazon

2. Macklemore & Ryan Lewis – The Heist
(Far more than the sum of its parts, this is not just a funny, inspiring, exciting R&B album – it feels important; and it rocks. Hear "Thrift Shop," just try to not smile.)


Buy New or Used via Amazon

3. Dirty Projectors – Swing Lo Magellan
(The disparate pieces finally come together here as they stop trying so hard, and just play. Intricate, rhythmically complex, super-cool and utterly unique.)


Buy New or Used via Amazon

4. Divine Fits – A Thing Called Divine Fits
(Britt Daniel leads this mashup of Spoon and Wolf Parade, a synthy, angular collage of propulsive 80's-inspired rock songs.)


Buy New or Used via Amazon

5. King Tuff – King Tuff
(This album of stoner-rock tunes kicks out the jams and manages to deliver an eager, insanely appealing garage-pop sound that is, simply put, irresistible.)


Buy New or Used via Amazon

6. Islands – A Sleep & A Forgetting
(The prolific Nick Thorburn – also of the awesome Mr. Heavenly – here sings haunting piano ballads infused with jaunty doo-wop rhythms that light up the lounge.)


Buy New or Used via Amazon

7. Woods – Bend Beyond
(This lo-fi blend of psychedelic rock and melodic pop insinuates itself and won't loosen its grip. With nods to GBV, War on Drugs, Pavement and The Who, this is quite a treat.)


Buy New or Used via Amazon

8. Jack White – Blunderbuss
(On the year's only true smash hit, JW goes mainstream without missing a step, delivering an amazing album of songs that are all instant classics, and instantly familiar.)


Buy New or Used via Amazon

9. Father John Misty – Fear Fun
(J. Tillman drops country-goth, erupting into a florid, sun-soaked, groovy-70's orchestral pop. Despite dark undertones, a breezy, happy, wonderful piece of work.)


Buy New or Used via Amazon

10. Matthew E. White – Big Inner
(This big beardy bear of a dude unfurls his steady-rolling church-organ-pop with so much good will that you can't not fall in love with it. The year's best surprise.)
11. Japandroids – Celebration Rock (Even more than on their last, these guys shred hard and mercilessly, delivering a power-blow to the plexus that'll lead to a sound sleep and a hoarse day at work.)
12. Sharon Van Etten – Tramp (Despite a high profile and even higher expectations, SVE delivers another powerful, intimate, awesome slice of confessional pop rock. Incredibly complex and moving.)
13. Frank Ocean – channel ORANGE (A bold, modern, soulful piece of groovy, moving R&B: this one deserves the plaudits, and is a valid choice for album of the year.)
14. Bahamas – Barchords (Get over the Jack Johnson-esque surf-pop sound and you'll find a subtle gem: patient, melodic, complicated acoustic pop that has plenty of substance – and a lot to say.)
15. The Babies – Our House On The Hill (Crazy-enjoyable sugar-rush power-pop album from this Austin, TX-based trio. Full of great runs and fuck-you's, this one never lets up.)
16. Cat Power – Sun (Another bold left turn, this time into cool, crisp electronic soundscapes that seem more than ever to bring out the smoky wonder of her voice. Slowing down never sounded so nice.)
17. The Mountain Goats – Transcendental
Youth (The 'Goats can do no wrong. Poet-laureate-in-waiting John Darnielle is arguably the most important composer of classical music working today. )
18. Raymond Byron & The White Freighter – Little Death Shaker (Ray Raposa, aka Castanets, finds a balance between folk-weirdness and haunting blues-rock and delivers a truly wonderful album.)
19. The Shins – Port of Morrow (Easy to overlook, Mercer sounds fresh and invigorated on this set of strong, layered, impeccably produced songs. The Broken Bells experience has changed everything.)
20. Plants and Animals – The End of That (Incorporating sounds from the Grateful Dead, Lou Reed and The Cave Singers, these hippies make a masterpiece. Takes a bit of patience, but it's in there.)
21. River City Extension – Don't Let The Sun Go Down On Your Anger (Like The Lumineers, but with balls.)
22. Chuck Prophet – Temple Beautiful (Fiesty veteran's solid, compact rock songs are a San Francisco treat.)
23. Hospitality – Hospitality (Derivative but irresistibly charming pop – and more substantive than you think)
24. Allah-Las – Allah-Las (Surfy retro-psychedelia, like Stones outtakes from Alamogordo circa 1965.)
25. Calexico – Algiers (Less adventurous but still beautiful, evoking broad landscapes and lonely journeys.)

THE REST
Fiona Apple – The Idler Wheel … (unexpectedly great album of sophisticated, poetic jazz-pop)
Beachwood Sparks – The Tarnished Gold (Gram Parsons lives! Unabashed country paeans to the good life)
Buxton – Nothing Here Seems Strange (fans of Dawes and Blitzen Trapper will find solace)
Cloud Nothings – Attack on Memory (hard, hard, driving rock, great production, punk edge)
Chris Cohen – Overgrown Path (Unknown Mortal Orchestra + Burt Bacharach: a hidden gem)
Delta Spirit – Delta Spirit (weak, for them – a generic pop sound creeps in – but still great)
DIIV – Oshin (trippy, atmospheric rock songs full of New Wave guitar lines and Deerhunter love)
Dinosaur Jr. – I Bet On Sky (good clean fun, and nothing fancy; a warmer sound with a sharper edge)
Fort Atlantic – Fort Atlantic (a thrilling, genre-jumping blossom of joyous pop sound)
Future History – Loss:/self (epic, expansive progressive folk debut from Toronto, flawed but brilliant)
Gentleman Jesse – Leaving Atlanta (underrated punk-pop pro pounds out skiffly retro riffs)
Daughn Gibson – All Hell (if the National did an electronic country album, it might approach this)
Higgins – Straight A's (this thing creeps up on you, straight off of 1979 AM pop radio; really easy fun)
Hundred Waters – Hundred Waters (a true thicket of weird: Bjork-folk, or folk-Bjork. Super.)
Jaill – Traps (you want to hate this New Pornographers rip-off, but damn it – you can't)
JBM – Stray Ashes (quiet, saturated Jim James-y folk album unfurls anew with each listen)
Michael Kiwanuka – Home Again (London's answer to Ray LaMontagne, or Otis Redding. Sweet.)
La Sera – Sees The Light (Debbie Harry and Caitlin Cary are reference points for this amazing vocalist)
Lotus Plaza – Spooky Action at a Distance (your Deerhunter fix in an off year)
Mala – Mala in Cuba (dubstep remixes of traditional Cuban songs, this is cool as shit – and sharp as a knife)
The Men – Open Your Heart (overrated punk-rock album; a little dry, but it'll get you bristled up good)
Menomena – Moms (this exciting, program-heavy rock outfit has shrunk to two, and they've gone dark)
Night Moves – Colored Emotions (St. Paul, MN's hipster answer to Turin Brakes)
Punch Bros. – Who's Feeling Young Now? (their last was a masterpiece, and this one also shines)
Quakers – Quakers (sprawling, inspired, layered rap compilation amazes) (thanks to Brian Binetti)
John K. Samson – Provincial (Weakerthan's front man emits signals from the Manitoban north)
Otis Taylor – Otis Taylor's Contraband (trance-blues: way, way cooler than you think)
The Tallest Man On Earth – There's No Leaving Now (less rousing than his last, but still sweet)
Tame Impala – Lonerism (just because it's fucking awesome, that's why)
Two Gallants – The Bloom and The Blight (harder, straighter alt-weird two-piece is better than advertised)
Neil Young – Psychedelic Pill (the sonofabitch has still got a lot of gritty, tangled, epic rock left in him)

| | |
| --- | --- |
| STILL DON'T GET IT | MISSED IN '11 |
| Animal Collective/Centipede Hz | Caveman/Coco Beware |
| Bat For Lashes/The Haunted Man | Daniel Ellsworth & The Great Lakes/Civilized Man |
| Beach House/Bloom | Wiz Khalifa/Rolling Papers |
| Best Coast/The Only Place | Ox/Tuco |
| Sleigh Bells/Reign of Terror | Santah/White Noise Bed |

Andrew Stewart
Rhinebeck, NY

---
Topics: PoOPlist 12, PoOPlists, Pooplists2012 | No Comments »
By MarkR | January 24, 2013
---
Buy New or Used via Amazon

1. BRUCE SPRINGSTEEN – Wrecking Ball
Bruce's angriest album ever is also his best since Born To Run. The Irish rebel song "Death To My Hometown" is as fierce as music got this year. Look no further than Wrecking Ball for a record to put in a time capsule to capture the economic and political landscapes of 2012. Special credit must be given to the ghosts of Mitt Romney and 'W' and the various "robber barons" for their inspirational roles in this record.


Buy New or Used via Amazon

2. THE dB's – Falling Off the Sky
Returning after a very long absence, the original dB's have not lost a beat. Quirky guitar pop at its best, with the unique stylings of Stamey and Holsapple very intact, complementing one another like it was 1982.


Buy via Futureman Records
3. VARIOUS ARTISTS – The New Sell Out
A who's who (pun intended) of power popsters replicate The Who Sell Out, commercials and all. Available only at Futureman


Buy New or Used via Amazon

4. VARIOUS ARTISTS – Lowe Country: The Songs Of Nick Lowe
There has always been a white country soul to much of Nick's music, and here country music upstarts crawl into songs from his prolific catalog and find both the laconic and the ironic strains of his lyrics.


Buy New or Used via Amazon

5. SUSANNA HOFFS – Someday
A pure sugar candy confectionary delight. Beautiful, tastefully light orchestral arrangements that fall like light summer rain. Docked a bit for being only 31 minutes long (only 4 minutes longer than 2 different songs on #11 below).


Buy New or Used via Amazon

6. VARIOUS ARTISTS – The Music Of "Nashville": Original TV Soundtrack
The trouble with Nashville, the C&W capital, is the music it produces does not have the musical and lyrical honesty that T-Bone Burnett and Buddy Miller bring to the TV show's soundtrack. And I have to admit, the show, a soap opera set in the music business, is a guilty pleasure of mine. But the music kills.


Buy New or Used via Amazon

7. PUNCH BROTHERS – Who's Feeling Young Now?
They use bluegrass instruments and then go ahead and break all the rules in the bluegrass playbook. Off-kilter songs delivered with precision and invention. Think bluegrass meets Phillip Glass, or blueglass. Worth a youtube search.


Buy New or Used via Amazon

8. JUSTIN TOWNES EARLE – Nothing's Gonna Change the Way You Feel About Me Now
Earle continues to find his own voice, and a lonely voice it is, in this less-is-more Memphis soul country stew. Winner of the Best Use Of Horns In a Supporting Role award.


Contribute to WFMU and get the CD
9. VARIOUS ARTISTS - Superhits Of the Seventies: Original Hits, Today's Stars
Many of the original versions of these songs pretty much drove me to drop my first 50 cents into the jukebox at CBGB's to play "Clash City Rockers" and "Ask the Angels" all those years ago. But "Today's Stars" take some bad songs and make them better. Really better. Only available as a WFMU premium at http://michaelshelley.net/2012/superhits.html


Buy New or Used via Amazon

10. RHETT MILLER – The Dreamer
Rhett finds a kind of living room ambience in an album beautifully produced to sound unproduced. New Paltz/Gardiner's favorite musical son also generously poured himself into any number of community events to benefit local kids throughout the year.
11. NEIL YOUNG WITH CRAZY HORSE – Psychedelic Pill
Neil and Crazy Horse bring the bombast. He, quite literally, has too much time on his hands. In my car once, I experimented by cutting all the l-o-n-g songs at the very generous 9 minute mark. The double disc CD clocked in at a very manageable 56 minutes. Americana was a fun appetizer, as well.
12. JD McPHERSON – Signs & Signifiers
Oklahoma's best roadside honky-tonk-abilly singer rips it up and parties like it's 1959.
13. JAY FARRAR, WILL JOHNSON, ANDERS PARKER AND YIM YAMES – New Multitudes: Lyrics By Woody Guthrie
In a year where labor unions everywhere battled the Scott Walkers everywhere, when "the 99%" became a bumper sticker, and in the 100th anniversary of Woody Guthrie's birth, adding music to more of Woody's unrecorded lyrics was a no-brainer. These songs are given a darker texture than his lyrics usually get and that too seemed appropriate for 2012.
14. CORB LUND – Cabin Fever
A Canadian Country & Northwestern singer with snow on his boots, a knack for great lyrics, a unique brand of humor, and a crack twangy band.
15. VARIOUS ARTISTS - It's Zimmerman's World . . . We Just Live In It
A compilation of 16 obscure mid-60s Dylan-soundalike garage bands. As a matter of fact, most of these songs sound like they were recorded within an hour of hearing "Like A Rolling Stone" for the first time. Sometimes goofy, always charming.
16. RUFUS WAINWRIGHT – Out Of the Game
Producer Mark Ronson gives Rufus' songs both a pop sheen and a bit of backbeat, both welcome additions to a catalog that was beginning to sound a bit tired.
17. LITTLE WILLIES - For the Good Times
Not quite as enjoyable as their first album but still a fun, informal romp through the history of below-the-radar C&W tunes. Yes, I love Norah Jones but the Willies are a band she is a member of. Sorry, but her Danger Mouse produced record did not click with me. For fans, she has a pretty good album called Covers, available only through frickin' Target. NOT fair to the indie record stores seeming to have a resurgence.
18. DWIGHT YOAKAM – 3 Pears
Dwight rocks the honky-tonk on an album that begs to be played loud. Bakersfield never rocked quite like this. Skronky- tonk.

19. DIAMOND RUGS – Diamond Rugs
They are supposedly a supergroup made up of members of bands I know absolutely nothing about (that includes any and all bands with Deer in their names, thank you). But this is a pretty cool amalgam of garagey rootsy stuff.
20. RODRIGUEZ – Searching For Sugar Man: Original Soundtrack
I'm still not sure whether the music alone merits this 'Best Of' collection's inclusion here but the story is so damned irresistible I feel I had no choice. At times, it's very good. At other times, it sounds like Dewey Cox.

SINGLES OF NOTE
THE MOCKERS – "(There's No War On Christmas) When Christmas Is In Your Heart"/"(What's A Better Present) At Christmas Time"
A two-sided killer Christmas single by Norfolk, VA's best power-pop garage band. The A-side takes on FOX News and the B-side is so retro-sounding it even references Idlewild Airport. And both sides drip with Christmas .
DROPKICK MURPHYS – "The Season's Upon Us"
The latest in the canon of dysfunctional family Christmas songs
ALABAMA SHAKES - "Hold On"
The teaser from their album and the semi-viral performance video were a wonderful throwback to a Janis-style mix of rock and soul. Brittany Howard is a great singer fronting a good band, but unfortunately the album grows tedious at about the 50 yard line.
NEW OLD STUFF
V.A. – The FAME Studios Story: 1961-1973 – Home Of the Muscle Shoals Sound
Scholarly and consistently wonderful until about mid-way through the third/last disc. A comprehensive survey of the Muscle Shoals Southern soul sound. And fabulously mastered! Actually from late 2011.
V.A. – Behind Closed Doors: Where Country Meets Soul
I used to think that country covers on 60s soul albums were the throwaway tracks. But this album reveals the unmistakable Southern connection.
LIVE SHOWS OF NOTE
BRUCE SPRINGSTEEN at Citizen's Bank Park – This 63 year old guy has no business sprinting, spinning, cavorting, gamboling, bouncing and dancing around on a stage uninterrupted for 3 hours and 40 minutes like he did one night in September. It can never be said about Bruce that he phones it in. In fact, his 33 song setlist included 19 songs he did not perform the following night. He somehow made a baseball park seem like a small club.
GILLIAN WELCH at The Egg in Albany
NICK LOWE and his great combo (my name) at Tarrytown Music Hall
---
Topics: PoOPlist 12, PoOPlists, Pooplists2012 | No Comments »
By JimF | January 24, 2013
---

Here Are the Songs They Play at a Mid Afternoon Bingo Game
1:04 pm: In about 25 minutes, I'm going to be DJ-ing a mid afternoon bingo game, with my Poop 2012 list. The game is for the nursing home's ambulatory residents, of which there are several dozen. I've probably DJ'd fifteen of these things already. It's like being a DJ at a nightclub, except this party will take place in the activity room and nobody told them not to let in Alzheimer's patients.
1:08: Oh Poop. They're serving cake at this dance. That's actually kind of great. There'd probably be less hostility at proper bingo games if they gave away cake, right?
1:34: There's a resident in here with a tattoo on the back of her neck. That's neat. It reads, "Caliente Pantalones." Literally, that's Spanish for "Hot Pants," but she's 85, so basically it means "I Need to Have My Diaper Changed."
1:37: I'm playing Mark Stewart's "Stereotype", a straight rip-off of 80′s synth-pop disco from "The Politics of Envy", wherein he makes the Nine Inch Nails album we always knew he had in him. Just the tip of the On-U iceberg this year, even though Adrian Sherwood had nothing to do with it, or the "Exorcism of Envy" remix album. Later on, if we're still awake, I'll put on Adrian Sherwood's own rather mellow "Survival & Resistance", or Little Annie's "State of Grace", wherein she's a little less cabaret, a little more rock & roll. Or for a pick me up, I'll program a track from Tackhead's election special "Funky President" – but I wish they'd release Sherwood's remix of Caspa's remix of TC's "Where's My Money?" What the frack is happening right now?
1:40: Oh snap. Went from Stewart straight to Taylor Swift's "We Are Never Ever Getting Back Together", which is basically a more modern, shiner version of Dolly Parton music. But there's hints that as she grows up she might turn into an American Bjork.
1:45: "Thinkin' Bout You"? Frank Ocean? Zero continuity. Whadda expect – I couldn't have spent any time planning this mix, right? I mean, poop. I shoulda put on an oldie by Prince. At least Prince was fun.
1:49 Time for the Christmas sing-along, "Tinsel and Lights" by Tracey Thorn. With her melancholy voice, coulda been the saddest Christmas album ever, but it wasn't, it was actually (relatively) upbeat.
1:53 This'll confuse 'em: singing along to the Invocation from Sun Araw's "Icon Give Thanks" album with The Congos – start nodding off to the muddiest dreamiest sounding Nyabinghi album since the Black Ark burned down.
2:00: Time to put them to sleep: Some Harold Budd, or Brian Eno's "Lux" should do the trick.
(Apologies to Shea Serrano)
So that's basically what happened in music in 2012, innit?


Here's my 2012 PoOP List


1. Sun Araw & M Geddes Gengras Meet the Congos – FRKWYS Vol.9 – Icon Give Thanks

2. Lost in the Humming Air – Music Inspired by Harold Budd

2.1. Harold Budd / Eraldo Bernocci / Robin Guthrie – Winter Garden

3. Adrian Sherwood – Survival & Resistance

3.1. Adrian Sherwood mixtape – Resistance Mix (Electronic Beats Exclusive)

3.2. Adrian Sherwood DJ Set at the Boiler Room

4. Mark Stewart – The Politics of Envy

4.1. Mark Stewart – Exorcism of Envy remix album

4.2. Mark Stewart – Stereotype remixes

5. Taylor Swift – Red

6. Peter Stampfel & The Ether Frolic Mob – The Sound of America

6.1. Peter Stampfel – Live LP

7. Portico Quartet – Portico Quartet

8. Tracey Thorn – Tinsel and Lights

9. Simone Felice – Simone Felice

10. Neneh Cherry & The Thing – The Cherry Thing

10.1. Neneh Cherry The Cherry Thing Remixes




11. Elizabeth Mitchell – Blue Clouds
11.1. Elizabeth Mitchell – Little Seed: Songs for Children by Woody Guthrie
12. Little Annie & Baby Dee – State of Grace
13. Peaking Lights – Lucifer
13.1. Peaking Lights – Lucifer in Dub
14. Prince Fatty Presents Holly Cook In Dub
14.1. Prince Fatty vs. The Drunken Gambler
15. King Midas Sound – Without You
15.1. Burial – Street Halo / Kindred
16. Saint Etienne – Words and Music by Saint Etienne (Deluxe edition with remixes)
17. Stew & The Negro Problem - making it
18. Bettye LaVette – Thankful 'n' Thoughtful
19. Frank Ocean – Channel Orange
20. Brian Eno – Lux


Oh, there were some Gigs: Best gig was Gary Lucas's outing at The Penthouse at The Standard in January – amazing solo guitar versions of Dvořák's New World Symphony with the lights of the East Village at our feet. Gary's old partner in crime, Peter Stampfel, always presents a high old time with his Ether Frolic Mob (sometimes including John Cohen) whether they're at The Jalopy in Red Hook or at Zebulon (both in Brooklyn). And Peter's old comrade, Baby Gramps, was a real kick at The Black Swan.
Other area shows/events: the Hudson Valley Gamelans – Gamelan Chandra Kanchana & Gamelan Giri Mekar (including yours truly) at Bard in December – being in a concert is more fun than listening to one. As a Poopster alumnus can attest with her group Otto & Raissa Count to 4, another fun show at The Colony. The Strawberry Hill Fiddlers (twice), the 420 Funk Mob with George Clinton at Bearsville, Ed Palermo's Big Band plays Frank Zappa at The Falcon in Marlboro, Simone Felice at The Falcon as well, The Silver Hollers at the High Meadow School, Rick Lange's production of 1776 at Rhinebeck, the Sinterklaas Parade, Elizabeth Mitchell and Peter Schickele at Maverick (separately), the Battlefield Band at the Town Crier, Gary Kvistad's Drum Boogie Festival at Byrdcliffe.
Farther afield: Doug Wimbish's Wim>>Bash in Hartford, with Living Colour and JungleFunk (and 2 parts of TackHead), Doc Watson's Merlefest in Wilkesboro with Blind Boy Chocolate & The Milk Sheiks, Stefan Grossman, Roy Book Binder and The Waybacks. In NYC: Stew & The Negro Problem at Joe's Pub, Peaking Lights at the Unsound Festival. And in Croton: a really good Clearwater Revival this year with Tinariwen, Preservation Hall Jazz Band, Balkan Beat Box, Forro In The Dark, Guy Davis, Joan Osborne, Jill Sobule, Arlo Guthrie & Family, and Elizabeth Mitchell again.

Songs:
Taylor Swift – We Are Never Ever Getting Back Together
Peter Stampfel – New Fortune
Lee Perry – What's Wrong With You?
Cory Daye – Deputy Of Love
Three Bonzos and a Piano – Holey Cheeses
Mark Stewart – Stereotype Italoconnection Remix
Peter Stampfel – Drunken Banjo Waltz
Neneh Cherry – Dream Baby Dream Four Tet Remix

Reissues: I asked a Poop Emeritus why they no longer contribute to this list, and said Poopster said that they no longer listen to new music. Well, that shouldn't be any problem; there are plenty of new old releases to keep the ears burning! So here's my list of Reissues & Best-ofs:
| | |
| --- | --- |
| 1. The Tymes – So Much In Love (doo-wop concept album years before Sister Susie Cinema) | 8. Michael Nyman – Michael Nyman Band (the Piano Records album) |
| 2. Captain Beefheart – Bat Chain Puller (official release) | 9. Michael Hurley – Back Home with Drifting Woods (Folkways outtakes) |
| 3. Sedition Ensemble – Regeneration Report (could be Neneh Cherry & The Thing 30 years ago) | 10. Karen Dalton – 1966 |
| 4. Lee Perry & The Upsetters – High Plains Drifter | 11. Frank Zappa – Greasy Love Songs (Ruben & The Jets original mix) |
| 5. Smith & Mighty – Three Stripe Collection | 11. Frank Zappa – Greasy Love Songs (Ruben & The Jets original mix) |
| 6. Ron Rogers with Cory Daye, Aural Exciters, Adriana Kaegi – N.Y.C. Lost and Found (original (?) version of Deputy of Love?) | 11.1. Frank Zappa & Van Morrison – Dead Girls of London (official release on the Birthday Bundle in Dec. 2011) |
Runners-up:

• Blind Boy Chocolate & The Milk Sheiks – Asheville Infamous
• Fennesz + Sakamoto – Flumina
• Mimi Goese & Ben Neill – Songs for Persephone
• Chilly Gonzales – Solo Piano II
• Mimi Goese & Ben Neill – Songs for Persephone
• Antibalas – Antibalas
• Marconi Union – Different Colours
• Galactic – Carnivale Electricos
• various Kompakt artists – Pop Ambient 2012
• Dirty Dozen Brass Band – Twenty Dozen
• Dirty Dozen Brass Band – Twenty Dozen
• Arvo Part – Adam's Lament
• Jozef Van Wissem & Jim Jarmusch – Concerning the Entrance into Eternity
• James Blackshaw – Love Is The Plan, The Plan is Death
• Slow Six – Tomorrow Becomes You
• Terry Riley – Aleph
Losers:
• Three Bonzos and a Piano – Bum Notes
• Icebreaker with BJ Cole – Apollo
---
Topics: PoOPlist 12, PoOPlists, Pooplists2012 | No Comments »
By JohnG | January 24, 2013
---
Bare bones version! 2012 was a good year! I turned 38 and further settled into my role of championing everything white dudes in plaid shirts like. Yay! Can't wait until next year and POOP List 2013: The Status Quo Apologist Strikes Back.
Music!

ALBUMS:
1. Japandroids – Celebration Rock
2. Sharon Van Etten – Tramp
3. Fang Island – Major
4. Cheap Girls – Big Orange
5. Aimee Mann – Charmer
6. Ken Stringfellow – Danzig In The Moonlight
7. Titus Andronicus – Local Business
8. The Big Pink – Future This
9. Soul Asylum – Delayed Reaction
10. Taylor Swift – Red
11. Craig Finn – Clear Heart, Full Eyes
12. Rhett Miller – The Dreamer

SONGS
Redd Kross – Stay Away From Downtown; Cheap Girls – If You Can't Swim; Guided By Voices – The Unsinkable Fats Domino; Carly Rae Jepsen – Call Me Maybe; Japandroids – The House That Heaven Built; Fang Island – Sisterly; Taylor Swift – We Are Never Ever Getting Back Together; Baroness – Back Where I Belong; Rhett Miller – Picture This; Craig Finn – New Friend Jesus


MOVIES!
1) Moonrise Kingdom; 2) Argo; 3) Lincoln; 4) The Avengers; 5) The Master; 6) The Perks Of Being A Wallflower; 7) Silver Linings Playbook; 8) Ruby Sparks; 9) Pitch Perfect; 10) (Insert any of the critically acclaimed movies I have not seen yet – Django Unchained/Zero Dark Thirty/Amour/The Sessions/Holy Motors – here!)


AWESOME LIVE SHOWS!
Aimee Mann @ Bearsville Theater; Saturday Looks Good To Me @ Bar; Archers of Loaf @ The Bowery Ballroom; That Dog @ Music Hall Of Williamsburg; Matthew Sweet @ The Egg; The Shins @ Terminal 5; The Hold Steady @ The Iron Horse; The Hold Steady @ Arch Street Tavern; Wilco @ Ommegang Brewery; The Feelies @ Club Helsinki; Morrissey @ The Palace Theatre Yo La Tengo/The Feelies @ Maxwells; Soul Asylum @ The Bowery Ballroom;


RIP
Marva Whitney, George McGovern, Joe Kubert, David Rakoff, Gore Vidal, Bill Doss, Chris Marker, Andrew Sarris, Rodney King, Sally Ride, Jean Giraud, Bob Anderson, Don Cornelius, Mitt Romney's Political Aspirations,and Gary Carter.

-John Greak
---
Topics: PoOPlist 12, PoOPlists, Pooplists2012 | No Comments »
By EricF | January 23, 2013
---
Ladies and gentlemen, I now present to you by favorite records of 2012. It wasn't easy admitting to all of these R&B records, but dammit, I am comfortable in my music skin!


Buy New or Used via Amazon

1. Kelly Hogan – I Like To Keep Myself in Pain Genres aside, her beautiful voice, slight twang, and vibrant melodies make this a winner.


Buy New or Used via Amazon

2. Best Coast – The Only Place Ah, a nice breath of fresh air. Jangly pop to soothe the soul. A real warm record.


Buy New or Used via Amazon

3. Frank Ocean – channel ORANGE I will admit it – I really loved some of this record and it is what I listened the most this year.


Buy New or Used via Amazon

4. Redd Kross – Researching The Blues Great hooks, solid background singing, and completely melodic.


Buy New or Used via Amazon

5. Andrew Bird – Break It Yourself A sweet, straighter Rufus Wainwright. I am just getting up to speed on his violin prowess.


Buy New or Used via Amazon

6. The Sea & Cake – Runner I thought their best years where behind them. I was very mistaken. Still tight; they can still generate their own breezy atmosphere.


Buy New or Used via Amazon

7. Dirty Projectors – Swing Lo Magellan An expansive, diverse gathering of songs that somehow work together.


Buy New or Used via Amazon

8. Grizzly Bear – Shields At times volatile and ready to explode melodically; at other times completely mainstream and pedestrian.


Buy New or Used via Amazon

9. Stew & The Negro Problem – Making It Not sure how I missed out on Stew previously, but the dude knows how to write a song with big hooks.


Buy New or Used via Amazon

10. Neil Young & Crazy Horse – Psychedelic Pill Opening track is 27 minutes long. 4 songs over 8 minutes. Really? Yes, really, and his most inspired effort in years.
11. Dinosaur Jr. – I Bet on Sky Definitely aided by reliving my youth and celebrating the 20th Anniversary of You're Living All Over Me live with a who's who of 90's indie rockers. With zero expectations going in, I was pleasantly surprised.
12. Esperanza Spalding – Radio Music Society Ambitious, broad, and soulful, this neo-soul/jazz LP features a stellar band.
13. Robert Glasper – Black Radio The opening track "Lift Off" featuring Shafiq Husayn and Mic Check is Gil Scott Heron for the new millennium. "Why Do We Try" featuring Stokley Williams sounds like a modern Stevie Wonder cut.
14. The Bad Plus – Made Possible More diverse than their previous records, this is their tightest collection of originals to date.
15. Christian Scott – Christian aTunde Adjuah A comprehensive mixture covering almost every era of jazz in a meaty, double album.
16. Pat Metheny Band – Unity Band Harking back to 80/81, this new incarnation is a pure jazz classic.
ETC., ETC., ETC…
The Temper Trap – The Temper Trap; Sun Kil Moon – Among The Leaves; Calexico- Algiers; Neil Halstead – Palindrome Hunches; Aimee Mann – Charmer; Mark Eitzel – Don't Be A Stranger; …And You Will Know Us By The Trail Of Dead – Lost Songs; Hot Chip – In Our Heads; Animal Collective – Centipede Hz; Ben Gibbard – Former Lives; Jack White – Blunderbuss; Brendon Benson – What Kind Of World; Bob Mould – Silver Age
Reissues, Box Sets, Compilations, Live Recordings, other stuff…
1. The Velvet Underground – The Velvet Underground & Nico Not sure it could get any more definitive, but the live recordings from this box set are truly historic.
2. Paul Simon – Graceland Wow, 25 freakin' years old!!! And just as fresh. A record way ahead of its time.
3. Sugar – Copper Blue/Beaster Bob Mould ages quite well. Read his autobiography. I feel like even he doesn't understand the impact he's had on music throughout his career.
4. My Bloody Valentine – EPs 1988-1991 Sonic masterpieces that sound as relevant now as they did when they were released 20 years ago,
5. The Kinks – The Kinks at the BBC A great collection of live material when the band was at their peak.
6. Marvin Gaye – Trouble Man Recorded 40 years ago, this never gets old. This new version has tons of alternative takes.
7. The Jackson 5 – Come and Get It: The Rare Pearls An amazing assortment of unreleased material. Truly timeless. "Feelin' Alight", oh yeah…
8. fIREHOSE – lowFLOWs: The Columbia Anthology ('91-'93) Not their finest years, but better than most performers best.
9. Alex Chilton – Free Again: The 1970 Sessions A perfect bridge between The Box Tops and Big Star.
10. Donny Hathaway – In Performance A legend whose name can easily be thrown in circles with the likes of Marvin Gaye and Otis Redding, he died a tragic death way too early.
A change is in the air. I can smell it. I'd like to believe it is not a matter of age, but one of choice. My tastes, desires and needs are shifting. There was more R&B then previous year, more general listening and more reflection. Hope I can build off of this for the upcoming year. It should be easy – there is plenty of inspiration at home to look at.
Eric Fine
… NYC, still…

---
Topics: PoOPlist 12, PoOPlists, Pooplists2012 | No Comments »
By RevRich | January 23, 2013
---
Favorite Things ~ 2012 ALBUMS
Buy New or Used via Amazon

Mentallo & the Fixer ~ Music from the Eather (Alfa Matrix).
Today's industrial music sounds much as it did a decade ago, undeniably powerful but no longer original. This album could change all that. The hugeness of the sound – crisp production, fluctuating beats and interlocking matrixes – blows away all rhythmic competition. The album is offered in a couple different versions, the best being the limited 3-disc set. For anyone invested in the future of IDM, this is the year's most essential release.


Buy New or Used via Amazon

Anoice ~ The Black Rain (Ricco).
The album is darkness and light, despair and hope, enigma and interpretation: a reflection of a nation emerging from tragedy. The title refers to the black rain of nuclear fallout, which descended on Japan during the Second World War and fell again in 2011 after the earthquake and the reactor meltdown. On the front cover, a woman weeps, but on the back, she rises, head upright, as if to say, I no longer need to be protected from the things of this world. She has wept the world's tears and emerged scathed, yet intact: irrevocably altered, irrepressibly resolute, the mirror of an embattled nation that cannot, will not allow its character to be determined by destiny alone.


Download via Amazon

Tonesucker ~ Omnia Convivia Crastina (Onoma).
The industrial revolution brought these sounds into the public consciousness, and for most of history they have seemed unwanted. This is noise, but noise that has been tamed, sculpted, shaped and made desirable: the potentially ugly made potentially beautiful, even glorious, a wash of mechanized sounds with aquatic timbres, imitations of telephones and emergency vehicles, bells and wires and factories forming an unlikely harmonious choir.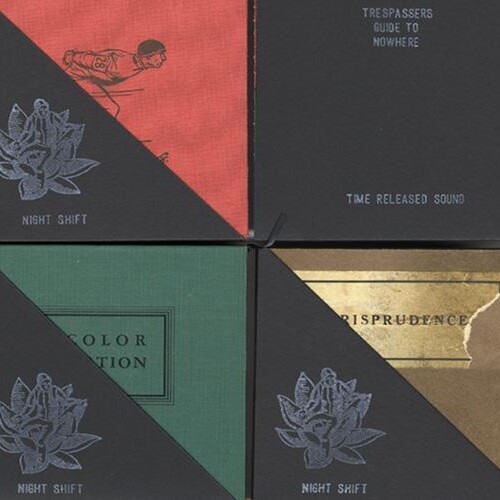 Buy via Time Release Sound
Night Shift ~ Trespasser's Guide to Nowhere (Time Released Sound)
From tap dancing to trains, motorcycles to marching bands, this eclectic mash-up really packs it in. Samples scoot by like seagulls in a hurricane, and the tracks blend to form a single 77-minute mix. Some will call it generous, others overstuffed. But those who love variety will be fascinated. There's not a nook or cranny anywhere that doesn't have something stuck in it, like a sonic curiousity shoppe waiting to be browsed.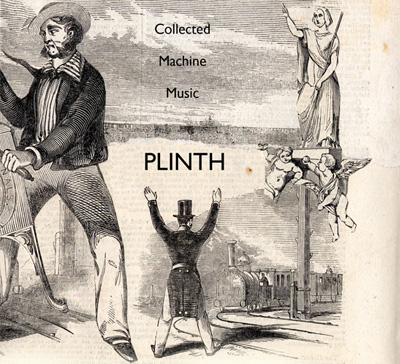 Buy from Time Released Sound
Plinth ~ Collected Machine Music (Time Released Sound).
Collected Machine Music may be the best music box album ever made. The limited edition contains a miniature music box and a punch strip, unique to its owner. This sort of music is timeless: a reclaimed relic that travels across the centuries with nary a dent. Yet Plinth is not trying to fool the ear. While the melodies could have been recorded a hundred years ago, their scratched patina marks them as memories of events that never occurred.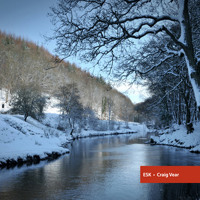 Buy from Experimedia
Craig Vear ~ ESK (3leaves).
In order to capture these sounds, Vear traveled up the North Yorkshire coast, beginning at the harbour and ending at the Esklets. He then merged and re-arranged his recordings so that the piece would reflect a river flowing to the sea. But listening is not entirely like walking downriver; instead, it's like pulling over every once in a while to take in the sonic field.


Download via Amazon

All Sons and Daughters ~ Season 1 (Integrity Music).
Every song is written in honor of specific people or events in this duo's Tennessee church, giving Season 1 a sense of authenticity and grace. It's the best worship album of the year, and the best Christian album in recent memory. The songs work because they've been lived, providing hope because they were written for those in tears.


Buy New or Used via Amazon

Simon Scott ~ Below Sea Level (12k).
The history and spirit of the British Fens are brought to life in this elaborate combination of hardbound book, CD and live bonus download. As Simon Scott reconnects with the great outdoors, he grows increasingly concerned with the preservation of sound environments. For many listeners unfamiliar with the issue, this album may represent the inception of an urgent idea. Below Sea Level is much more than simply music and sound; it's a quiet revolution.


Download via Bandcamp
Matteo Uggeri | Luca Mauri | Francesco Giannico ~ Pagetos (Boring Machines).
Five years ago, Erimos (desert) and Nefelodhis (cloudy) were the first entires in the Between the Elements Quadrilogy. Kapnos (smoke) followed a couple years later, and finally Pagetos (morning frost) in 2012. The tracks flow together like winter flows into spring, chronicling the inevitable tumble into warmth and the awakening of the seeds. Now that the quadrilogy is complete, we can appreciate the overall tapestry.


Download via Amazon

Total Normal ~ Tales of the Expected (Momental Records).
Under normal conditions, one might prefer rock and pop to exotica and spoken word, but at this sonic boutique, every toy rests on the same shelf: a cowboy hat, a candy casket, a ray gun, random dialogue, stray beats, melodic scraps. The purchases head into the shopping cart, where they are jostled, shuffled, and bruised; then home, where they are sorted and smoothed. Each song is its own little mix ~ it's not a mash-up, it's a meld.
| | |
| --- | --- |
| Single Tracks | EPs and Long Songs |
| Gotye, "Somebody that I Used to Know" | William Ryan Fritch, "Kaleidoscope" |
| Fortune & Spirits, "Feels Like Snow" | Tyneham House, "A School Holiday, 1977" |
| All Sons and Daughters, "Reason to Sing" | Esther Burns, "The Genius of the Crowd" |
| Björk, "Crystalline (Matthew Herbert Mix)" | Troy Schaefer, "Hail, True Body |
| Bat for Lashes, "Lilies" | Herve Moire, "Mirage de Loire" |
| | |
| --- | --- |
| Music Videos | (in viewing order) |
| "Requiem for the Static King" | Directed by Christopher Hewitt, music by A Winged Victory for the Sullen. |
| "Postcard from 1952" | Directed by Annie Gunn, music by Explosions in the Sky. |
| "Ekki múkk" | Directed by Nick Abrahams, music by Sigur Rós. |
| "The Rip Tide" | Directed by Houmam Abdallah, music by Beirut. |
| "The Middle" | Directed by Morgan Beringer, music by Matthew Dear. |
| "Bounce Bounce" | Directed by Hayley Morris, music by Hilary Hahn & Hauschka. |
| "Thistle" | by Martin Allais, music by Hundred Waters. |
| "Jammed" | Directed by M-I-E, music by Dan & John at Meanred. |
| "Putty Boy Strut" | Directed by Cyriak, music by Flying Lotus. |
| "Shift" | Directed by Max Hattler, music by David Kamp. |
Books for Adults
Bernie Krause, The Great Animal Orchestra: Finding the Origins of Music in the World's Wild Places.
James Balog & Terry Tempest Williams, Ice: Portraits of Vanishing Glaciers.
R. Klanten & H. Hellige,Patrick Rothfuss, Little Big Books: Illustrations for Children's Picture Books.
Alan Lightman, Mr. g: a novel about the creation.
Alan Light, The Holy or the Broken: Leonard Cohen, Jeff Buckley and the Unlikely Ascent of "Hallelujah".
Adam Brent Houghtaling, This Will End in Tears: The Miserabilist Guide to Music.
Lynn Sherr, Swim: Why We Love the Water.
Peter Heller, The Dog Stars (novel).
Jen Campbell, Weird Things Customers Say in Bookstores.
David Bynre, How Music Works.

Books for Children
Mies Van Hout, Happy
Kyo Maclear and Isabelle Arsenault, Virginia Wolf
Levi Pinfold, Black Dog
Norman Messenger, The Land of Neverbelieve
Michael Ian Black & Debbie Ridpath Ohi, I'm Bored

Best Films of 2012
The Avengers
Moonrise Kingdom
Looper
Silver Linings Playbook
The Dark Knight Returns Part One (DVD)

Richard Allen
A Closer Listen
www.acloserlisten.com
---
Topics: PoOPlist 12, PoOPlists, Pooplists2012 | No Comments »
By IrvR | January 23, 2013
---
What I listened to in 2012
I am starting to detect a pattern here: I listen less to, and care less about, music in presidential election years. What does it mean? No idea. But listen I did:


Buy New or Used via Amazon

Ry Cooder – Election Special
A more timely, more explicit state of the union statement would be hard to find. Nothing subtle here.


Buy New or Used via Amazon

Andy Statman – Old Brooklyn
May be my favorite of the year. Bluegrass meets klezmer meets rock. Great end to end.


Buy New or Used via Amazon

Bruce Springsteen – Wrecking Ball
Easily the best in years. Made better by concerts in Tampa and Philadelphia.


Buy via Amazon
Buy via Amazon

Neil Young – Psychedelic Pill
Neil Young – Americana
Two in one year. Better yet, two in one year w/Crazy Horse. Yes I am an old fart, but so what. I actually like American best, giving old folkie songs the Crazy Horse treatment is an inspired idea. Psychedelic is more a nod to old Neil – except for references promoting his autobiography.


Buy New or Used via Amazon

Antibalas – Antibalas
Brooklyn based Afrobeat band, much like Fela Kuti's bands.


Buy New or Used via Amazon

Jimmy Cliff – Rebirth
Kind of forgot about Jimmy. This is an excellent return to Harder They Come form.


Buy New or Used via Amazon

JD McPherson – Signs & Signifiers
As authentic as can be, from the attitude to the vintage instruments. A rockabilly gem.


Buy New or Used via Amazon

Dr. John – Locked Down
Another Big Mac attack. Never fails.


Buy via Amazon
Buy via Amazon

Norah Jones – Little Broken Hearts
The Little Willies – For the Good Times
Another twofer. Like Norah much better now that she is not everywhere, dueting w/everyone. Like the more guitarish sound. And the Little Willies remain fun.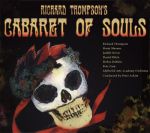 Buy from Richard Thompson
Richard Thompson – Cabaret of Souls
Probably the weirdest album from RT. A folk oratorio, an original cast album featuring, among others, Harry Shearer. Very strange.

Bob Dylan – Tempest
Not sure why I like this. But, I really like the 14 minute title tune epic about the sinking of the Titanic.
John Hiatt – Mystic Pinball
Another year, another John Hiatt album
Bettye LaVette – Thankful N' Thoughtful
50 years in the biz, mostly hidden away. This is not so much a cover album as an album of interpretations. Glorious.
Mark Knopfler – Privateering
I am still a sucker for his vocals and guitar style. But would have been better as a single disc.
Van Morrison – Born to Sing: No Plan B
The final old fart curmudgeon. Best in a long while.
Lake Street Dive – Fun Machine
Little EP from an interesting jazz/doo wop/rock acoustic band. Best seen on You Tube for full effect.
Irv Rosen
Tarpon Springs, the sponge capital of the world
---
Topics: PoOPlist 12, PoOPlists, Pooplists2012 | No Comments »
By JohnS | January 23, 2013
---

Obama got reelected. While I was not 100% happy with his first term? It was still better then what could be a disaster? Romney/Ryan. We dodged a bullet.


Best Ten of 2012 (No Particular Order)

Honourable Mention
Grimes – Visions
Neil Young - Psychdelic Pill / Americana
Frank Ocean – Channel Orange
Avett Brothers – The Carpenter
Van Halen – A Different Kind of Truth


Reissues
Deep Purple – Machine Head (40th Anniversary Edition) One of the best hard rock bands of all time and still not in the Hall of Fame, despite the fact they built Warner Brothers Records and laid the foundation down for bands like Metallica, Megadeth and the genre of metal.
Can – The Lost Tapes
Avengers – Avengers


Singles
Gotye – Someone I Used To Know
FUN – Some Nights
Beach Boys – That's Why God Made the Radio
Lana Del Rey – Born to Die
Bruce Springsteen – We Take Care of Our Own
Alabama Shakes – Hold On
Calvin Harris – Feel So Close
Frank Ocean – Pyramids
Mumford and Sons – I Will Wait
Lumineers – Hey Ho


Jay Stewart

---
Topics: PoOPlist 12, PoOPlists, Pooplists2012 | No Comments »
By KevinF | January 23, 2013
---
ALBUMS OF NOTE
Buy New or Used via Amazon

#1 JAPANDROIDS – CELEBRATION ROCK – the kind of album I've waited to be written since I was old enough to love music and really, really, really like girls.


Buy New or Used via Amazon

#2 KENDRICK LAMAR – good kid, m.A.A.d city – fact: suburban white kids from the east coast are infatuated with California and gangsta rap almost as much as they are with guitars and heartbreak. Almost.


Buy New or Used via Amazon

#3 FANG ISLAND – MAJOR – have you ever wondered what it would sound like if the Fucking Champs got a vocalist and said vocalist was Lindsay Buckingham? No? So you have a limited frame of reference for that comparison? Well, now, THAT'S unfortunate.


Buy New or Used via Amazon

#4 FATHER JOHN MISTY – FEAR FUN – as a teenager, I worked at the rectory in Fishkill. A certain priest used to jam out tunes by Mountain on my acoustic guitar (usually during the latter portions of my shifts). This album is almost as good as that. Also, that particular priest may have had a drinking problem.


Download mixtape for free
#5 JOEY BADA$$ – 1999 – in 1992, my brother's friend once made a rap mixtape (supra white kids and rap) that featured the talents of Black Sheep, Naughty By Nature, Cypress Hill, Too Short, the Ghetto Boys, and much more. This album takes me back to that mixtape, and thankfully, does not include the sporadic boners of 6th grade.


Buy New or Used via Amazon

#6 CRAIG FINN – CLEAR HEART FULL EYES – purposely sparse and unfairly ignored, a Hold Steady record it ain't (but that don't mean it ain't good). They actually put that sentence on stickers and affix them to the record in Texas.


Buy New or Used via Amazon

#7 METZ – METZ – two Canadian bands already in my top ten? You know what this means? Sorry, Carly Rae…


Buy New or Used via Amazon

#8 THE DIRTY PROJECTORS – SWING LO MAGELLAN – if I knew more about metaphysical poetry and less about "Dawson's Creek," this album would probably be higher on my list.


Download via Amazon

#9 WINTERLONG – FIVE SONGS EP – well orchestrated atmospheric rock from Hudson Valley's finest power-trio (Philip the Meatbox is a four-piece, right? Just checking)


Download via Amazon

#10 DUMB TALK – DUMB TALK – when someone first told me about this band, I thought their name was "Dumptruck." I also thought that was a terrible name for a band. Happy to be wrong, I was (and shall always remain).

#11 FIDLAR – DON'T TRY EP – not everything that only lasts seven minutes is disappointing, ladies
#12 GRIZZLY BEAR – SHIELDS – this is just a good record
#13 EL-P – CANCER FOR CURE – Fantastic Damage came out 11 years ago? Seriously? 11 years? Goddammit.
#14 DIIV – OSHIN – I suggested this record to a friend and when he asked what it sounded like I said, "less melancholy shoegaze with a slight garage feel." He replied, "that's my favorite kind of music!" I had no idea that description was its own genre.
#15 THE TALLEST MAN ON EARTH – THERE'S NO LEAVING NOW – did you know he's only like 5'5"? He plays live shows like he's at least 5'10" though.
FAVORITE SONG OF 2012(Sentimental Winner)
Craig Finn – "Rented Room" – serving as a softly strummed reminder that there needn't be a neon vacancy sign or limited linens to make where you lay your head feel far removed from home. Sometimes all it takes is change, and sometimes all change takes is time. Time and a really fucking sad song.
FAVORITE SONG OF 2012 (Non-Sentimental Winner, But Still Has Sentimental Value)
Japandroids – "The House That Heaven Built" – there are nights we are meant to wallow, and there are nights we are meant to live – belting out exclamations with strangers and friends, with sweat and purpose, with elation and sorrow. It's in this catharsis we find clarity, and even if it's fleeting, you know the feeling will eventually make its way home to your headphones and, more importantly, to your heart.

Poop 2012 Mixtape
| | |
| --- | --- |
| Side A | Side B |
| New Friend Jesus – Craig Finn | m.A.A.d city – Kendrick Lamar (feat MC Eiht) |
| Grown Up – Danny Brown | Sisterly – Fang Island |
| Song for Zula – Phosphorescent | Bad Girls – MIA |
| Stay Useless – Cloud Nothings | Feels Like We're Only Going Backwards – Tame Impala |
| We Are Never Getting Back Together – Taylor Swift | The Full Retard – EL-P |
| Werkin' Girls – Angel Haze | Keep On Movin'- King Tuff |
| Under The Westway – Blur | Goldie – A$AP Rocky |
| Hollywood Forever Cemetery Sings – Father John Misty | Fire's Highway – Japandroids |
| Offspring Are Blank – Dirty Projectors | Drag Queen Racer – Dumb Talk |
| Call Me, Maybe? – Carly Rae Jepsen | Cheap Beer – FIDLAR |
| | This Summer – Superchunk |
| Yet Again – Grizzly Bear | There's No Leaving Now – The Tallest Man on Earth |
2012 Movies of Note
1) The Master; 2) Bernie; 3) Moonrise Kingdom; 4) Django Unchained; 5) Looper; 6) The Raid: Redemption; 7) Francine; 8) Sleepwalk with Me
Top Two (2) Things I Could Not Get Into That Other People Loved (or Also Loathed)
1) Grimes – Oblivion – I'm just not that into you
2) "The Newsroom" – this is just the most self-serving piece of shit ever to operate under the guise of "entertaining television." I imagine Sorkin watches every episode pants-less, surrounded by tissues and his Emmys; his left hand clutching his Oscar with a kung fu grip as he furiously congratulates himself at every line of Jeff Daniels's cantankerously misogynistic dialogue that he, yes he, King Sorkin so expertly crafted. Seriously, fuck that guy. The Social Network was dope, though.
Deliver us from anxiety, protect us from discomfort,
keep us floating up above the things that make us nervous.
Don't hurt us…
Kevin Falahee
Astoria, NY
---
Topics: PoOPlist 12, PoOPlists, Pooplists2012 | No Comments »
« Previous Entries