---
What I listened to in 2012
I am starting to detect a pattern here: I listen less to, and care less about, music in presidential election years. What does it mean? No idea. But listen I did:


Buy New or Used via Amazon

Ry Cooder – Election Special
A more timely, more explicit state of the union statement would be hard to find. Nothing subtle here.


Buy New or Used via Amazon

Andy Statman – Old Brooklyn
May be my favorite of the year. Bluegrass meets klezmer meets rock. Great end to end.


Buy New or Used via Amazon

Bruce Springsteen – Wrecking Ball
Easily the best in years. Made better by concerts in Tampa and Philadelphia.


Buy via Amazon
Buy via Amazon

Neil Young – Psychedelic Pill
Neil Young – Americana
Two in one year. Better yet, two in one year w/Crazy Horse. Yes I am an old fart, but so what. I actually like American best, giving old folkie songs the Crazy Horse treatment is an inspired idea. Psychedelic is more a nod to old Neil – except for references promoting his autobiography.


Buy New or Used via Amazon

Antibalas – Antibalas
Brooklyn based Afrobeat band, much like Fela Kuti's bands.


Buy New or Used via Amazon

Jimmy Cliff – Rebirth
Kind of forgot about Jimmy. This is an excellent return to Harder They Come form.


Buy New or Used via Amazon

JD McPherson – Signs & Signifiers
As authentic as can be, from the attitude to the vintage instruments. A rockabilly gem.


Buy New or Used via Amazon

Dr. John – Locked Down
Another Big Mac attack. Never fails.


Buy via Amazon
Buy via Amazon

Norah Jones – Little Broken Hearts
The Little Willies – For the Good Times
Another twofer. Like Norah much better now that she is not everywhere, dueting w/everyone. Like the more guitarish sound. And the Little Willies remain fun.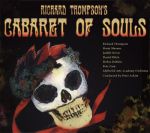 Buy from Richard Thompson
Richard Thompson – Cabaret of Souls
Probably the weirdest album from RT. A folk oratorio, an original cast album featuring, among others, Harry Shearer. Very strange.

Bob Dylan – Tempest
Not sure why I like this. But, I really like the 14 minute title tune epic about the sinking of the Titanic.
John Hiatt – Mystic Pinball
Another year, another John Hiatt album
Bettye LaVette – Thankful N' Thoughtful
50 years in the biz, mostly hidden away. This is not so much a cover album as an album of interpretations. Glorious.
Mark Knopfler – Privateering
I am still a sucker for his vocals and guitar style. But would have been better as a single disc.
Van Morrison – Born to Sing: No Plan B
The final old fart curmudgeon. Best in a long while.
Lake Street Dive – Fun Machine
Little EP from an interesting jazz/doo wop/rock acoustic band. Best seen on You Tube for full effect.
Irv Rosen
Tarpon Springs, the sponge capital of the world
---
---