Poopings for 2017
Well, I gotta Pflug my own work first.

Buy via Bandcamp
Bob Lukomski: Höre CD (Earwaker Recordings)
Not that it's the greatest thing out there, but I put good time and energy into this little 6 track CD of electronic epigrams. Old synths, new synths, borrowed synths, and yes, a blue synth. And I wasn't even getting married. Kraftwerk meets David Axelrod in spots, lots of clean lines and simple electronic percussion. No vocals, you can get it local.
AND NOW…
I bought my fair share of recordings in 2017, mainly to stave off total psychological collapse. That means lots of comfort sounds, and not much in the way of exploration. I surprised myself here and there though…

Buy New or Used via Amazon Rent via iTunes [?]
David Bowie: No Plan EP (Columbia Records)
He's dead for a year, and the label sneaks this in amongst the Broadway soundtrack, box sets and whatnot. So why celebrate a 4-song disc that could be considered an afterthought? Because the title track is one of the most beautiful things Mr. Jones ever made, that's why.

Buy New or Used via Amazon Rent via iTunes [?]
Zeitkratzer performs songs from the albums "Kraftwerk" and "Kraftwerk 2" CD (Zeitkratzer Productions)
After this chamber ensemble's take on Lou Reed's Metal Machine Music, it makes sense that they'd tackle the first 2 Klang-orous albums from Düsseldorf's most famous Dead cover band. Considering that these records in their original form (as well as the Ralf und Florian porn soundtrack LP) are not part of "Der Katalog" – in part due to the inclusion of icky sweat-inflected drumming, fluting and guitaring – the chamber ensemble vibe is a refreshing take on these more aimless experiments, otherwise only found on overpriced bootlegs (which I own as well). Kudos for making the pylons into party hats on the cover!

Buy New or Used via Amazon Rent via iTunes [?]
V/A: SAMMLUNG – Electronische Kassettenmusik, Düsseldorf 1982-1989 CD (Bureau B)
Yeah, it wasn't all Mensch-Maschine or Der Mussolini in the 'dorf. 13 tracks from cassette releases by folks you've never heard of. Alternately cranky and beautiful, lo-fi electronics before it became a "thing". The dregs of obscurity keep getting stirred, and decent stuff like this floats up along with music best left in the dollar bin at Goodwill, but it's getting more desperate for the hip who dip in this cesspool. I'll know for sure that the cess has been exhausted when they come looking for my mid-80's releases.

Buy New or Used via Amazon Rent via iTunes [?]
CAN: The Singles CD (Mute)
For the most part, just as unnecessary as that 3-CD set of Damo Suzuki doing bong hits. It's not a greatest hits package (no 6-minute edit of "Mother Sky"), and I'm not sure all of these were actually single releases. I got it because my car has a CD player and I don't want to listen to "Soup" on the Thruway. Besides the usual suspects -"Spoon", "I Want More" (the closest they ever came to a top-40 single) and other edits – "Shikako Maru Ten" is pretty happening. "Turtles Have Short Legs" not so much.

Buy New or Used via Amazon Rent via iTunes [?]
Radiophonic Workshop: Burials in Several Earths CD (Room 13)
Not the BBC RW, but a project featuring Martyn Ware from Heaven 17 and Steve "Dub" Jones (not of the Sex Pistols). Long-form hauntology that wouldn't be out of place coming from the monitors at Maida Vale studios, or on a Ghost Box release. Fans of both White Noise (the band) and Stars of the Lid may already own this.

Buy New or Used via Amazon
Pere Ubu: 20 Years in a Montana Missle Silo CD (Cherry Red)
David Thomas is the US version of Mark E. Smith. If it's him and yer granny on bongos, it's an Ubu gig. How can you ever tire of that?

Buy New or Used via Amazon Rent via iTunes [?]
Tõnu Kõrvits: Moorland Elegies – performed by the Estonian Philharmonic Chamber Choir and the Tallinn Chamber Orchestra CD (Ondine)
Finnish music is much more than the band Circle, although I often forget that. On the opposite end of NWFHM sits this composer and his work for choir and string orchestra, using Emily Brontë poems for texts. Kõrvits' music strikes that MAYA sweet spot – Most advanced yet acceptable design. Yes, there are obvious hints of last century's mystical minimalism (Pärt and Gòrecki fans will dig it, and not just for having another set of foreign accented characters in his name), but add just enough spectral discord in the strings and smear the harmonic motion and you lose the po-faced eastern European vibe, gaining Nordic beauty. You need a solid sound bath? Take a dip.

Buy New or Used via Amazon Rent via iTunes [?]
Basil Kirchin is My Friend LP (Trunk)
Nice sampler from Jonny Trunk's trunk, covering Basil's eclectic Jazz, soundtrack, and sound experiment output (including hard to find cues from The Mutations and Shuttered Room, although no Abominable Dr. Phibes cues, which is a shame). Oddest sequencing of 2017 – the robo-disco of "Silicon Chip" followed by "Schurmatt Autistic Children Tape", which is exactly that.

Buy New or Used via Amazon
Gil Mellé: Andromeda Strain OST 10" LP(Jackpot Records)
RSD reissue of the classic Kapp hexagonal 10". For the first and only time, I went like a rube to a Record Store Day event and paid too much for this. It's an item I've coveted since High School, so what better way to get all nostalgic than to drag my 12-year old daughter to Poughkeepsie so we can wait in a line that wraps around the corner and gawk at folks who are a notch to the left of comic collectors ("they're just like you, dad"). I alternately got anxious and then chuckled every time the store employees would march up and down the line announcing what titles had sold out – the highlight was when someone got visibly upset that the Mungo Jerry single was all gone. My daughter was promised a trip to the mall afterward, so she suffered along with me. 2 hours later, I got my record and we're eating Wendy's at the food court. We agree never to do that again.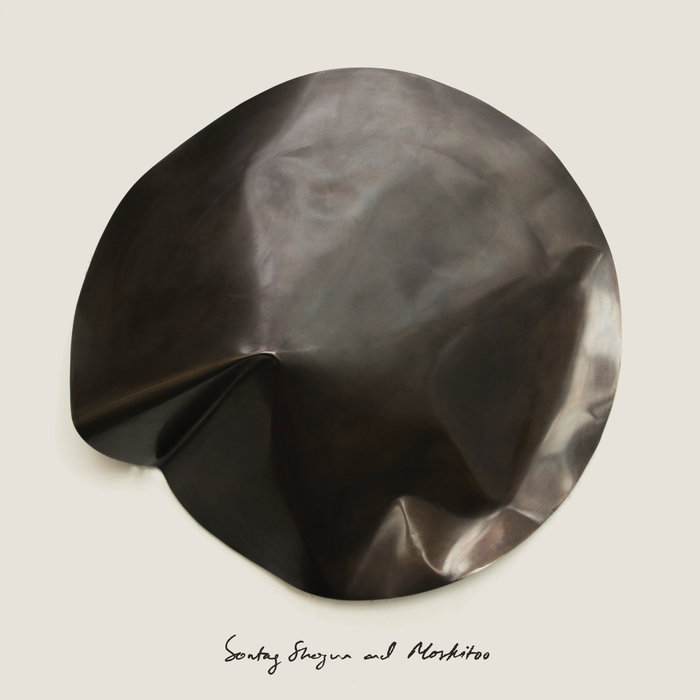 Buy New or Used via Amazon Rent via iTunes [?]
Sontag Shogun & Moskitoo: "The Things We Let Fall Apart / The Thunderswan" 7" (Home Normal)
Ambient single from NY-based trio with guest artist. Chill piano, voice and electronics that wouldn't be out of place on an EG records sampler. Good way to end the year and this list.
Honorable Mentions (because I downloaded these and did not purchase physical copies)
The Belbury Circle: Outward Journeys
The Focus Group: Stop-Motion Happening
Toitoitoi: Im Hag
(all Ghost Box records)

LIVE SHOWS I SAW…
Bryan Ferry Schenectady NY February
I had the flu, but rested just enough to drive up there, have an ecstatic experience (and see folks I've not seen in 20+ years), get home and resume my illness. Bryan is the yin to Brian's yang, don't ever forget that.
Roedelius – Brooklyn NY March
Roedelius – New Paltz NY October
Winner of Baden bei Wien's "Last Kraut Standing" competition, still at it 83 years on. The Brooklyn gig was in a large garage, lots of underage drinking and Achim was cranky. The NP show was more enjoyable, mainly because it was an afternoon concert in a seated theater, and there were fewer hipsters but more old fogies. I made a number of new acquaintances that afternoon.
Pere Ubu – Kingston NY November
Just fun watching DT get worked up, even if half of the time it was an act. The Steel Guitarist looked like Charlie Manson's brother caught in a time warp.
That's it for now. Reel-to-reel is my bag these days. Like FM synths, the kids are gonna start in on that trip soon enough.