---
POOPIN' FOR THE YEAR 2007
In no particular order:

Off The Hip Records
HELLBOUND HONEYS Vol. 1 (Off the Hip):
This is an excellent comp of girl garage bands from Europe, Australia, US, and Argentina. Plenty of fuzz guitar, Farfisa organ and simple beats. There's two songs from each of the seven bands on the disc. Las Curvettes are the stand-out band but there's no stinkers in the bunch. Hopefully, there will be a second volume in the near future.
Buy from Goner
HEAD – HEIL HEAD (Evil Clown):
This is a collection of all of their material from their first single in 1992 til the bands last full-length in 1997. The band's sound is easy to describe…they sound like the first three RAMONES discs. Simple punk rock with fun lyrics that'll keep you hoppin' along with the cretins. With no song more than two and a half minutes these 31 tracks plow you over before you realise it.
Buy new or used through Amazon
HIVES – THE BLACK AND WHITE ALBUM (A&M):
Another big gap between releases. This time with mixed results. Sure, there are the "typical" great riffs on half the disc (especially on "TRY IT AGAIN") but they go off on some not so interesting tangents. Using hip hop producers was definitely an interesting experiment but not necessarily the best move. I don't knock them for trying something different but I want my old Hives back.
Buy new or used through Amazon
NEW YOUNG PONY CLUB – FANTASTIC PLAYROOM (MODULAR):
This is the best 80's New Wave sounding band that's out and about. They were probably in diapers back then but for a band that didn't live through all the "cheese" that went on back then they came up with a great catchy sound. The snappy vocals/harmonies with heavy synth action mixed with great bass beats makes for some fun stuff.
Buy new or used through Amazon
ARCTIC MONKEYS – FAVORITE WORST NIGHTMARE (DOMINO):
They pulled off a pretty decent sophmore release. Not as toe tappin' as their debut but the first four songs are as rocking as anything on their debut. I really like the rhythm change ups they whip out. But (like the Hives) they wanted to move beyond "their sound" and turned out a couple clunkers. Nobody's perfect.
Buy mp3 from Amazon
BOB MARLEY AND THE WAILERS – REHEARSAL AT CAPITAL RECORDS 1973 (AMJ):
Mister Meyers passed this amazing disc my way. I've never heard them sound this smooth. They are riding this amazing groove that's hard to put into words. There is such a free/fun vibe. It's as close to a religious reggae experience as you could get. You can practically smell the herb burning. A must for any fan of the genre.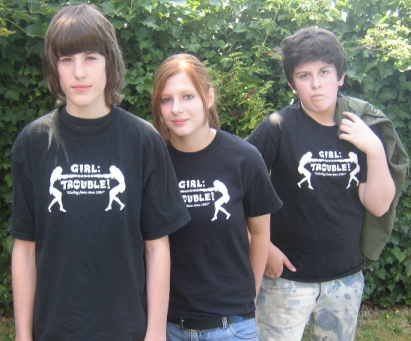 GIRL TROUBLE – LIVE AT THE FUNHOUSE, SEATTLE 11/30/07:
What can I say about this band that I haven't already said. They are best represented in a live setting. This may not be their best but it sure sounds like it was one hell of a fun show. The lead singer, Kurt, is in rare form. He is one of the top frontmen in the business. Always humoring the crowd with his one-liners and making everyone feel like part of the show. This is their (early) x-mas show that they put on every year. You can notice how as the set progresses both Kurt and Kahuna (lead guitar) get more and more "toasted"…and the dialog that flies out of Kurt's mouth is HI-LARIOUS. This band RULES!!!
Buy new or used through Amazon
SIMPSONS – TESTIFY (SONY):
Oh man, was this a long time coming…from the very beginning of Bart singing "Satan eat my shorts" along with the ever classic "Everybody Hates Ned Flanders" sung along with David Byrne in many forms…this disc is a must have for any fan of (still) the best cartoon in history. And you can't forget the B-52's singing "Glove Slap". Now I can say that the band has FINALLY made it!!!
THE CRAMPS – LIVE MILANO, ITALY 4/2/80:
This is a great example of how the warm-up band gets no response from the crowd in the beginning of their set to totally winning them over within five songs. The Police were the headliners and i'm sure the crowd was slightly taken back by Lux's crazed stage presence. By the time they finished playing "What's Behind The Mask" the crowd was going ape for them. I'm sure this accomplishment didn't happen at every show on the tour but pretty damn cool to hear.
Best Concerts of 2007
The B-52's – Asser Levy Park and also Roseland Ballroom:
The B's are back and no more "Good Stuff" crap. They are back to their tride and true sound…FUN. Both shows they played at least a half dozen new songs which will be coming out in March. Can't wait!!!
STOOGES – United Palace:
An amazing set and more enjoyable than the Randalls Island festival. The crowd was absolutely crazed…most of whom ended up on the stage with the band during "No Fun". FUNHOUSE never sounded so good…and Iggy is 60!!!
SQUIRREL NUT ZIPPERS – Highline Ballroom:
A sort of reunion gig that will hopefully lead to another cd in the future. I can honestly say I haven't danced that hard (thanks to Michelle) since I was in high school. Talk about cuttin' a rug!!! Yes, tequilla always helps.
PAULA POUNDSTONE – Gramercy Theatre:
I know she isn't music related but I just had to mention her set. It was over two and a half hours of no pre-written set. Just using the audience and winging it. Totally amazing. She's back in May…GO!!!

Paul Cangelosi