---
My POOP DISC-CLAIMER (disc-lamer?): To only slightly-misquote Homer Simpson, that was the suckiest sucky year that ever sucked. While music will never be the first, second or hundredth thing I think of when I look back with, er, 2020 hindsight, this actually was a pretty good year for inspired music, most (but not all) recorded before March. The lion's share of my selections are in some way steeped in older music, updated or re-examined for the present, but I've listed far fewer re-issues or expanded editions than usual. Pandemics work in mysterious ways.
Rent via Amazon Rent via iTunes [?]
1 – VARIOUS ARTISTS – Strum & Thrum: The American Jangle Underground 1983-1987
The title pretty much says it all! I would add that all 28 bands sound like they just listened to "Chronic Town" minutes before hitting 'Record.' And that's a good thing. Extra credit for the informative band-by-band notes and the sweeping 70 page, eight chapter oral history of the genre using quotes from the band members to create the narrative. After delving into this collection I went back to uncover an exhaustive homemade comp ("Hoboken to Athens") made by my late friend (and former POOPster) Kevin, who spent more than a good amount of time in his basement immersed in this very music.
Buy New or Used via Amazon Rent via iTunes [?]
2 – FIONA APPLE – Fetch the Bolt Cutters
Intense and challenging, Apple mostly jettisons the piano and uses a bed of percussion to fuel her poetry. This one takes a little work to cut through (actually a good quality). Isolation has always been her currency but COVID seems to have taken it to a wrenching level.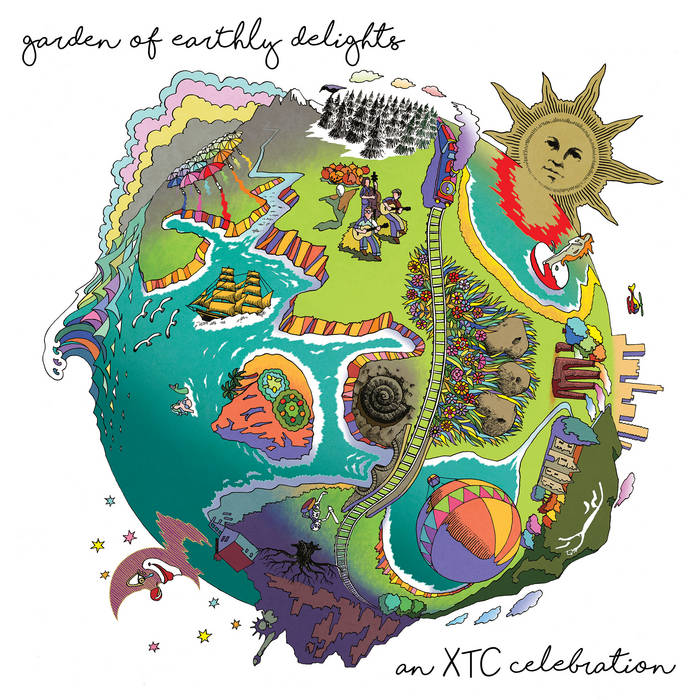 Download via Bandcamp
3 – VARIOUS ARTISTS – Garden of Earthly Delights: An XTC Celebration
Forty-nine indie bands capture the quirky pop that made XTC so unique. These are mostly straightforward re-creations, and hearing these songs in different voices further underscores what made XTC so special. I'm reminded again how life begins at the hop.
Buy New or Used via Amazon Rent via iTunes [?]
4 – EXPLORERS CLUB – Explorers Club
Explorers Club is really Jason Brewer and a stellar cast of supporting musicians who bring his retro-vision of sunny pop into the present. Brian, Boettcher and Bacharach are all over this but they never overshadow Brewer's originality. Almost as good as this album is the Explorers Club's covers album To Sing and Be Born Again, released the very same day.
Buy New or Used via Amazon Rent via iTunes [?]
5 – PEAT & DIESEL – Light My Byre
The meteoric rise (at least in the UK) of these three Scottish pubsters from the Western Isles even caught them by surprise, leading to their decision to not give up their day jobs (as fishermen, electricians and delivery drivers) lest their fall be just as sudden. Their flatbed truck concerts through their hometown in times of COVID further highlighted their down-to-earthiness. Check YouTube for performances, their entertaining backstory and for their PSA about handwashing.
Buy New or Used via Amazon Rent via iTunes [?]
6 – X – Alphabetland
X is back. At 27 minutes, X might be accused of John Doe hit and run Exene, but damn if they don't burn it down like it's 1979. I must admit I was hesitant to endorse a group whose female singer has flirted with conspiracy theories but this record left me no choice. That being said, Van Morrison's next record will have to be Moondance times ten for me to give any consideration.
Buy New or Used via Amazon Rent via iTunes [?]
7 – BOB DYLAN – Rough and Rowdy Ways
Not sure where Bob pulled this surprising and daring record out of. I haven't cared for or even cared about a Dylan album since the 70's(!) but this one is something else, both lyrically adventurous and sonically arresting. The titles of "Murder Most Foul" and "I Contain Multitudes" (my two favorite tracks) co-opt Shakespeare and Whitman, putting another notch in his Nobel literary prize belt.
Buy New or Used via Amazon Rent via iTunes [?]
8 – KRONOS QUARTET & FRIENDS – Celebrate Pete Seeger: Long Time Passing
Kronos gives Seeger's music a brand new and deeper texture, often adding tension where appropriate. This new context brings a surprising new dimension to an American icon.
Buy New or Used via Amazon Rent via iTunes [?]
9 – STEVE EARLE AND THE DUKES – Ghosts of West Virginia
This is the soundtrack to a short-lived NYC play called Coal Country about the mining disaster that claimed the lives of 29 people in 2010. Earle set out to show the dignity of a people seldom afforded it, and he succeeds nicely in this moving and poetic record.
Buy New or Used via Amazon
10 – JUNIPER – Juniper
Juniper Shelley is the 15 year old daughter of Michael Shelley, a DJ on WFMU. She delivers the most charming record of the year, good-naturedly addressing the tribulations of being a teen in suburbia. Juniper turns what could easily have devolved into anguish and angst into something downright playful, all with the sensibility of someone who has obviously foraged through Dad's record collection.
11 – BONNIE LIGHT HORSEMAN – Bonnie Light Horseman
In the quandary posed by reinterpreting songs that are by definition traditional, Bonnie Light Horseman takes it safely down the middle. With one foot on each side of the 50 yard line, these songs simultaneously sound already familiar and refreshingly new. A pretty low-key affair but it pushes all the right buttons.
12 – EMMA SWIFT – Blonde on the Tracks
The Dylan songs are all familiar (spanning Highway 61 Revisited right up to this year's Rough and Rowdy Ways) but the atmospheric, interestingly evocative arrangements are the stars here. Bonus points for the cute-as-hell album title. Produced by Robyn Hitchcock.
13 – BILLIE JOE ARMSTRONG – No Fun Mondays
This is a collection of covers recorded in quarantine that were originally released on YouTube on successive Mondays. It's a pretty even mix of familiar songs and deeper choices, all delivered with Green Day-ish enthusiasm. But most definitely NOT no fun.
14 – THE MAVERICKS – En Espanol
Latin influences have always percolated under everything the Mavs' have ever done so it's only a slight stretch to let those influences come forward. I don't understand a lick of Spanish but at some level I feel I can still understand these songs. Bonita.
15 – NEIL YOUNG – Homegrown
This record was scrapped in the mid-70's to make way for Neil's brasher, more restless material. At this point I'm glad he did it. There's a gentleness to this record and a sweetness to his voice (somewhat lost over the many years) that are the perfect balm for 2020. I'm glad the 'old man took a look at his life' and released this record now.
16 – GILLIAN WELCH (and David Rawlins) – Boots No. 2: The Lost Songs Volumes 1-3 and All the Good Times
With plenty of pandemic time on their hands, Gilly and Dave literally dusted off 48 original songs that were hiding in a closet (songs in their tried and true style) and recorded 10 covers in their living room (much more loosey goosey). In one pandemic they double their entire career output.
17 – THE PRETENDERS – Hate for Sale
Long ago Chrissie Hynde mastered the combination of tough and seductive, and some might question whether someone pushing 70 could (or even should) try to pull something like this off. A particularly hard-hitting version of her Pretenders side mates give her the perfect opportunity to answer that question with authority.
NEWLY DISCOVERED
GROOVY UNCLE (with SUZY CHUNK): Their entire 20teen catalog of eight albums puts every single style of 60's British pop into a blender set to 'Liquefy.' The results are songs where it's nigh impossible for me to put my finger on who that last song reminded me of. Lively, clever and tuneful and quite the musical rabbit hole for me this year.
MICK JAGGER & THE RED DEVILS: The Blues Session 1992 – a one-off, on-the-fly session where Mick Jagger and an unshakable blues band from L.A. laid down 13 blues standards, all unrehearsed. Not that different from the Stones' Blue & Lonesome album from 2016 but the Red Devils have a much more practiced Chicago sound. I can't imagine how I'd never heard these perfect quality bootlegged tracks before.
The EVERY PANDEMIC HAS A SILVER LINING Department (all available now on YouTube)
The ALBUMS REVISITED Series: The Bardavon Theater (one of my local shut-down concert venues) has been hosting virtual album tributes to 60's albums (so far Highway 61 Revisited, American Beauty, Loaded and Moondance). Artists, both local and national, perform an entire album from half a century ago. Entertaining and surprising.
RAUL MALO's "Quarantunes" – Malo released one-song-a-night for three weeks in March and April, recorded in his home studio. The songs are mostly standards (the John Prine cover on the night of his passing is one exception) and Malo does his best to sort out the still unfamiliar territory of isolation.
NORAH JONES' Living Room Concerts – I'd love to have been a next-door neighbor in her Brooklyn apartment building all those Thursday nights.
JACK'S RHYTHMS
Jack's Rhythms was an early casualty of the COVID-19 economy. Jack's provided the New Paltz music community with its very own "barbershop." It was a mecca for music geeks like me, a place to discuss the latest releases, hear new artists, uncover obscure titles, make fun of 'bad' music, find out who was playing where, and just be among friends (it was also a place of employ for me now and again). Still sorely missed. Thanks, John Lefsky.
. .