---
Buy new or used through Amazon
1. Of Montreal – Hissing Fauna, Are You The Destroyer (PolyVinyl)
It's hard to comprehend, but 10 years have passed since their debut album first appeared. Truth be told, I hadn't been following their releases in at least half of those years, as I'd pretty much figured out where they were going, which seemed pretty predictable. Well Kevin Barnes must have realized that he's gone as far as he could with his shtick and decided to throw himself headlong into a nervous breakdown by moving to Norway with his wife in the dead of winter and trying to learn how to raise a baby with very little daylight. In my mind, you couldn't ask for a better recipe for musical inspiration. Not quite conceptual but close enough for these attention deficit times. Take 1/2 a cup of Brian Eno (from "Here Come the Warm Jets"), a 1/4 cup of Beck's white boy funk, and 1/4 cup Bowie and voilá!www.ofmontreal.net
Buy new or used through Amazon
2. Spoon – Ga Ga Ga Ga Ga (Merge)
Britt Daniel has the innate ability to channel both Lennon and McCartney and somehow manage to make it all seem so unforced. On this their sixth album in nearly 10 years, Spoon continues to bring sheer delight to my ears with their simple approach. The formula essentially remains the same, however there are signs that they'll be branching out into fuller productions as evident with the horn section used on "The Underdog" and on the Spector-reverby production on "You Got Yr. Cherry Bomb". www.spoontheband.com

Buy new or used through Amazon
3. Field Music – Tones of Town (Memphis Industries)
From the few songs I found in blog-o-land at the tail end of 2006, I had a feeling I'd be writing about this record a year later. Having Google-mapped their hometown of Sunderland (UK) even adds more consternation as to where they came up with their edgy-angular sound, as it's clearly nowhere near any major city or "scene" as I can tell. Their self-titled debut album had its fair share of XTC-isms, and the same goes for this their sophomore release. And oddly enough you can hear a more pronounced tension like Partridge and Moulding had with "Skylarking" producer Todd Rundgren. Sadly, the band announced their break-up/hiatus sometime in the fall of '07, however one key member has a new outfit known as School of Language who will have a record out on Thrill Jockey in Feb '08. www.myspace.com/fieldmusic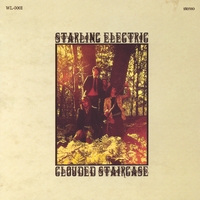 Buy from CD Baby
4. Starling Electric
–
Clouded Staircase
(self-released)
Equal parts Guided By Voices, Zombies, Big Star, Beach Boys and Steely Dan, this album randomly showed up one day and remains completely shrouded in mystery. With all of the recent talk about the great vinyl resurgence, if there ever was an album made for the format, this is it. Hell, track 3 even has vinyl clicks embedded in the song! "Clouded Staircase" is a real throwback to a simpler time, yet it comes with rich melodies and sumptuous production that would make Big Star producer John Fry mighty proud.
www.myspace.com/starlingelectric
Buy new or used through Amazon
5. Wilco – Sky Blue Sky (Nonesuch)
For a while I was feeling a bit cynical and jaded about acquiring the fourth, fifth or sixth recording from a modern/current band. Wilco was really case in point for me. "A Ghost is Born" left me under whelmed and when they released their double live album "Kicking Television," I figured they had "jumped the shark" and it was time to move on. The deal was almost set in stone with the initial lukewarm reviews that "Sky Blue Sky" garnished. Fortunately I have a good friend who told me to ignore everything I read and open my ears once again, it'll be worth it. Oh how right he was.
www.wilcoworld.net
Buy new or used through Amazon
6. Dr. Dog – We All Belong (Park The Van)
A couple of years ago, a fellow PoOp contributor and I happened upon this band opening for Son Volt down at South Street Seaport one picture perfect afternoon. Didn't know a damn thing about them and at the end of the set we acknowledged they were pretty good, shrugged our shoulders and eagerly awaited Farrar and company. Well now the shoe is on the other foot as Son Volt have become the "shrugged shoulders" band. I couldn't begin to tell you what Dr. Dog are singing about but they pull together a sound that at times is "Abbey Road" era Beatles, The Band, and the ramshackle psychedelic Elephant Six-sound found in bands like the Apples in Stereo, Beulah and Olivia Tremor Control.
www.drdogmusic.com
Buy new or used through Amazon
7. Georgie James – Places (Saddle Creek)
As good as the blog-o-sphere has been this past year in turning me onto some interesting listens and discoveries, there is still something to be said for good old fashioned word of mouth from friends with impeccable taste. This Virginia/DC duo fits in very nicely with what Quasi have done over the years and added an edgier sound not all that different from what Ted Leo has been doing. At first I wondered what a record like this is doing on Saddle Creek and then it hit me; oh yeah, they used to have Rilo Kiley too!
www.georgiejames.com
Buy new or used through Amazon
8. Neil Young – Live at Massey Hall 1971 (Reprise)
Vintage, prime Neil. It's hard to put into words how magical this release is. Feels like I'm there, each and every time I listen. As a friend once put it, this very well may be the best Neil Young album, period.
www.neilyoung.com
Buy new or used through Amazon
9. Vampire Weekend – self-titled (self-released)
This album is in my mind the canary in the coalmine as to what the future of selling music is going to be. Not officially released until January 29, 2008 on XL Recordings, these guys have a buzz going on of EPIC proportions. Danceable, great lyrics, great hooks and full of youth and life, VW have everything it's going to take to make it. There's the African rhythms and guitars, the upper notes that Sting characteristically sung in the Police in their prime, but without the pretension, and at times the flavor of The English Beat's "Mirror in the Bathroom" sans saxophones. I'm enthusiastically rooting for these guys.
www.myspace.com/vampireweekend
Buy new or used through Amazon
10. Sloan – Never Hear the End of It (Yep Roc)
Boy these guys have been cranking 'em out for so many years now. 30 songs on this single disc, their eighth. They must have sensed that this must be the end of the road so why not go out with a bang? In a way, this album is like the cliff notes version of their entire career. Some songs clocking in at somewhere between one and two minutes, they accomplish what other bands try to do in an entire album. Hats off to you fellas.
www.sloanmusic.com
Ken Beck
Cranford, NJ
Kenbeck115 AT gmail DOT com