---
O.K. Boys and girls it's Poop time. I was going to bow off this effort as the year in music through my ears was a bit ho-hum . Then I thought I have another chance here just to shoot off my opinionated and pompous mouth, let alone with like kind, so I'm in good company so let's rock you ,rock me, rock on!
LAMF.
Buy new or used through Amazon

10) Wayne Shorter "Night Dreamer"
Well I copped this in 2006 amid all the hoopla surrounding Blue Notes Rudy VanGelder Editions. In this day and age of cyber crap we here have the original Engineer of the 1964 recording session getting a shot at the digital remix the later done in 2004. Rudy-Wayne has gotta love ya .Elvin's smiling down on you as the recordings digital brilliance is stunning and to top it off the whole project just reeks COOL.

Buy new or used through Amazon
9) Roy Haynes "Where Is"
I was lucky enough to be present at The Artist Quarter in St. Paul,Minnesota for this slick and smooth live recording. How's that for pompous. Sitting about twelve feet from Roy was a clinic , a delight and that cat is fast and clean like the gunslinger with the white hat. I can't say enough about the youthful musicians blowing alto ,piano, and bass. Just all out smoking cool blazing jazz.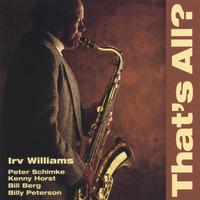 Buy at CD Baby

8) Irv Williams "That's All ?" Mr. Smooth is what the cats call him and I've been fortunate enough to accompany him on the bandstand. The tone of his horn to the tone of his life is tough to duplicate. This man is an American Treasure and one of the finest in interpreting jazz standards. Irv is royalty in the court of Count Basie and Sir Duke.




Buy new or used through Amazon
7) Shawn Colvin "These Four Walls"
Yup, Had to make room for #1.
Buy new or used through Amazon
6) Keane "Under the Iron Sea"
Well so much for the sophomore jinx. The fellas pulled it off. I'm sure they have been influenced by the likes of Mr. Davies and all that good ole fashioned English Pop. They do seem to use that modern forced chord every now and they which makes them 2006 not 1973.
Buy new or used through Amazon
5) Art Blakely "Holiday for Skins"
The liner notes an Orgy of Rhythm as a Catholic excites me in more ways that one. The first composition "Feast" just sets up the entire percussive experience recorded in 1958 remixed in 2006 . I'm glad all these drummers let Donald Byrd play for color. You can hear the surface of the drum heads. Give da drummer sum and they did.
Buy new or used through Amazon
4) Dave Davies "Kinked"
Yeah I know most of the tunes were previously released but the song Recorded in 2006 "God in my Brain" let's us know that this survivor, who could play lead guitar with the MC5 is alive and well and just reminds me what a real English rock n roller should be like. Rock you, Rock me , Rock on .LAMF
Buy new or used through Amazon
3) Bob Dylan "Modern Time"
Ya know boys and girls being my fellow opinionated and pompous colleagues in the annual effort, I really never blew in the frekin wind with this folky from Minnesota . I've seen him in the Singer Bowl and at the concert for Bangladesh but never dug his singing. Well Mr. Zimmerman ya grew on me and you grew yourself musically which is admirable as a player. I find this effort to be an honest musical progression of a recording artist ,over forty years now and Bobby you like a fine wine bringing truth to the statement "you have to drink the Ripple to be able to appreciate the Beaujolais. Right On!
Buy new or used through Amazon
2) Ray Davies "Other Peoples Lives"
I had the pleasure to hear this album performed live at First Avenue giving me a deeper appreciation for the recording. The album is tighter and clearer vocally which is why session men get the big bucks. This is not a Legend's album or anything nostalgic. This is a new and bright effort by a one of the best songwriters of the twentieth century and still going strong, gunshots and all.
Buy new or used through Amazon
1) The Beatles "Love"
There hasn't been an album that has so engaged me in a musical experience since these four fellas made records forty years ago. The clean but exciting clarity of the original licks brought out a brilliance musically and in an audio way. I found the level of musicianship to be reassuring and outright startling ,these guys can play. It remains this band from Liverpool has always and it looks like continue to produce the finest Pop music bar none for ever.
That's all folks, till then
John
johnnyd15 AT msn DOT com
http://www.myspace.com/lamf15 (Beware! Myspace page!)