---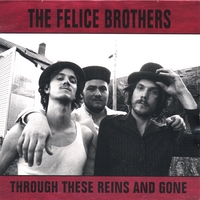 Buy from CD Baby
1. THE FELICE BROTHERS: Through These Reins & Gone
– local Hudson Valley guys made the best music I heard all year…several live shows really showcased their Band/Dylan influences. big things lie ahead for them.

Buy new or used through Amazon
2. BOB DYLAN: Modern Times
– what can one say? blatant rip offs from Muddy Waters aside, a brilliant, fun, insightful ride. (local reference- rented out the Bardavon to write and jam for a week)
Buy new or used through Amazon
3. NICOLAI DUNGER: Here's My Song, You Can Have It, I Don't Want It Anymore, Yours 4 Ever
– ex Swedish Soccer Player records his 2nd release with Mercury Rev in Kingston. incredible vocals reminiscent of Jeff Buckley.
Buy new or used through Amazon
4. ANDY PARTRIDGE: Fuzzy Warbles
– O.K. here's a guy who clearly needs to edit his work (9 CD's?!) but there are some real gems in here.
Buy new or used through Amazon
5. TOM WAITS: Orphans
– no need to edit this…new stuff, hard to find stuff, all crazy cool.
Buy new or used through Amazon
6. JOHNNY DOWD: Cruel Words
– his best ever…an acquired taste nonetheless.
Buy new or used through Amazon
7. BECK: The Information
– bass heavy grooves
Buy new or used through Amazon
8. BONNIE PRINCE BILLY: The Letting Go
– icy ballads
Buy new or used through Amazon
9. ADRIAN SHERWOOD: Becoming A Cliche/Dub Cliche
– well worth searching out the import with the dub cd …all over the place, dub, rai, rap.
Buy new or used through Amazon
10. LITTLE AXE: Stone Cold Ohio
– blues mixed by Sherwood…covers Toussaints Same People
also :
Los Lobos: The River & the Town
Ry Cooder: Chavez Ravine
M. Ward: Post War
Ray Davies: Other People's Lives
Sparks: Hello Young Lovers
Neko Case: Fox Confessor Brings The Flood
The Sadies: In Concert
Neil Young: Living With War
Elvis Costello/Allen Toussaint: The River In Reverse
Johnny Cash: V5 American Recordings
totally out there:
Metallic Falcons: Desert Doughnuts
Scott Walker: The Drift
disappointments:
Joanna Newsome: YS (i like her in small doses)
Beth Orton: The Comfort Of Strangers
John Cale: Black Acetate
concerts:
Felice Brothers- everywhere
Ryan Adams- everywhere
Bob Dylan- Cooperstown, Boston (Raconteurs sucked)
Tribute to Dylan- Lincoln Center
Slits- Bard
Beck- NYC
Lou Reed- UPAC
David Bromberg- Bardavon
Dan Hicks- Bearsville
World Party- Bearsville
Gregory Isaacs-The Chance
GWAR- The Chance
IABAS- Colony Cafe
R.I.P.
Kevin Coyne
Syd Barrett
Ivor Cutler
James Brown

by the way , i finally got the mega ipod…..wow .shuffle… obsessed…the greatest radio station ever.